In Brief
Networking on the spot
The JMSB Alumni Chapter has launched Network for Business, a series of opportunities for business alumni to engage in networking.
At these events, four to six names will be drawn to talk about their businesses. Participants are asked to be prepared to talk about their company for a few minutes, and not to forget their business cards.
There was a dinner on Jan. 19, and there will be a breakfast on Feb. 22 and another dinner on March 22. All are at the SGW Faculty Club, at a cost of $30.
For more information, call (514) 848-2424 ext. 4397. You can register online, at alumni.concordia.ca/cuaa/chapters/jmsb
Marked this weekend
The Department of Theological Studies plans to celebrate the centenary of the birth of a much-loved theologian with a symposium this weekend.
The symposium is titled Being Human in a Postmodern Context: the Contribution of Bernard Lonergan, and it will be co-sponsored with the Thomas More Institute. It is part of an international effort to recognize Lonergan's contributions to Roman Catholic thought.
The guest speakers are Cynthia Crysdale (Catholic University of America), Patrick Byrne (Boston College) and Frederick Lawrence (Boston College).
The event, to be held in Hingston Hall, on the Loyola Campus, is free, and begins Friday evening with a wine and cheese. For more information, please call ext. 2475, or e-mail Professor Christine Jamieson, at jamieson@alcor.concordia.ca.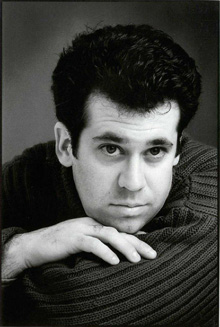 Brick editor reads his work
Michael Redhill, poet, playwright, novelist and filmmaker, will give a reading from his work on Friday, Feb. 4, at 7:30 p.m. in the De Sève Cinema, 1400 de Maisonneuve Blvd. W.
Redhill is co-editor with Michael Ondaatje of the literary journal Brick.
His first book of poetry, Impromptu Feats of Balance, appeared in 1990; his most recent is Light-crossing, 2001.
His first novel, Martin Sloane, was widely praised, and his newest work is a collection of short stories, Fidelity. A number of Redhill's plays have been produced.
This reading is part of the English Department's Writers Read at Concordia series, with the Blue Metropolis Literary Series and Lower Canada College.
Teaching for peace
Is it possible to teach peace to children who have known only war?
A documentary will be screened on Tuesday, Feb. 8, from 4 to 7 p.m. in the D.B. Clarke Theatre, in the Henry F. Hall Building. Teaching Peace in a Time of War was filmed in Belgrade's Vasa Pelagi, one of six schools where a pilot project on peace education is being conducted.
The screening will be introduced by the filmmakers, Hetty van Gurp and Teresa MacInnes.
In 1991, Hetty's 14-year-old son Ben died as a result of a bullying incident. Since then Hetty, president and founder of Peaceful Schools International, has worked to support schools in creating and maintaining a culture of peace. Teresa MacInnes, is a seasoned filmmaker on solutions to school violence, and a former social worker.
There will be a panel discussion by several Montreal teachers and faculty members from several Concordia programs, including Creative Arts Therapies and Art Education. The event is part of the ongoing Peace and Conflict Resolution series.
Sensoria
A conference called Sensory Collections and Display will be held Feb. 10 and 11 at Concordia and the Canadian Centre for Architecture. The event is organized by the Concordia Sensoria Research Team (CONSERT), which is based in the Department of Sociology and Anthropology.
Topics will range widely, including the modern museum, post-apartheid townships in South Africa and the World Trade Centre.
The inaugural address, "Design Comes To Its Senses," will be given by Joy Monice Malnar and Frank Vodvarka, authors of the book Sensory Design, at 8 p.m. on Thursday, Feb. 10, in the auditorium of the CCA, 1920 rue Baile. Admission is free, and the public are welcome.
MBA program achieves ranking
Concordia's John Molson School of Business is one of only seven Canadian business schools in an international ranking of MBA programs.
The School's MBA program was ranked eighty-first in the world by the Financial Times of London — seventh in Canada and second in Quebec. The rankings are based on a survey of alumni.
The JMSB tied with the University of Toronto's Rotman School of Business with 93 per cent, the highest score in Canada, in a category of "aims achieved," the extent to which alumni fulfill their goals.
In terms of "value for money," the JMSB ranked twenty-ninth, higher than any of the five top-ranked schools (namely Harvard, Wharton, Columbia, Stanford & London Business School).
The survey also highlights JMSB's strong international focus, with the highest percentage of international faculty in Canada. In addition, our students exhibit superior strengths in their international mobility and international experience.
For the past two years, the program has been ranked fifth in Canada by the National Post's rankings of Canadian business schools.
Communicating culture
The Defiant Imagination is a lecture series sponsored by the Faculty of Fine Arts and the Montreal Museum of Fine Arts.
The next speaker will be Design Art professor Rhona Richman Keneally.
She will speak on "Communicating Culture," on Friday, Feb. 4, at 3:30 p.m. in the De Sève Cinema, 1400 de Maisonneuve Blvd. W.
Blackness explored
Ebony Roots, Northern Soil: Perspectives on Blackness in Canada is the title of a two-day conference to be held at McGill University on Feb. 4 to 5 as part of Black History Month.
The event, organized by art history professor Charmaine Nelson, will
include 30 academics, scholars, professionals, celebrities and community leaders. They will convene in five roundtable sessions to discuss topics such as the arts, culture, politics, society and national identity.
Admission is free at the conference, to take place from 5 to 9 p.m. at the Stewart Biology Building, 1205 Dr. Penfield, Ground Floor, Room
S1-4.
UG case comp
On the weekend of Feb. 3 to 6, on both campuses, students from business schools all across Canada will compete in French and English at the Undergraduate National Case Competition (UNCC).
This event, now in its fourth year, is organized by the John Molson School of Business.

Thirteen teams of four students each will take part. Each team takes three hours to prepare recommendations for a business case, and then presents them to a team of judges. Queen's University has won this event three years running. The competition starts with a cocktail sponsored by TD Meloche-Monnex, and ends with banquet given by the largest sponsor, Jacob.
'No black Smarties'
Concordia student and standup comedian Daliso Chaponda is presenting a new show called Black History YEAR: A Month Ain't Enough.

The show, produced by Empty Plate Productions, takes place Feb. 3, 4 and 5. at the Theatre Ste. Catherine, 284 Ste. Catherine E., starting at 9 p.m.

You may have seen Chaponda, who is from Central Africa, in Don't Let Them Deport Me and Feed That Black Man. Joining him on stage this time will be some of Montreal's best ethnic comics: Freddie James, Sugar Sammy and Jocko Olsten.

Chaponda said, "The show will tackle issues pertinent to Black History Month, such as affirmative action, racial profiling and self-hatred in the black community. It will also address injustices such as the fact that Smarties don't come in black, clocks are round, and Black Hhstory is celebrated on the coldest month of the year (alas, no parades).

"Tickets are $10, $8 with reservations (284-3939). For more information, contact Chaponda at 846-9652 or spiltink@hotmail.com. He has a website with audio excerpts at www.daliso.com.
Kabballah to Cohen
The Institute for Canadian Jewish Studies, based at Concordia, is conducting lectures this term aimed at students. It started Jan. 17 with an introduction to the Kabbalah by a Montreal rabbi, and there was a second lecture yesterday by Steven Lapidus (Religion) on gender in Judaism.
The series continues on Feb. 14 with a lecture by Professor Norma Joseph on women in Jewish history, and winds up March 10 with Norman Ravvin, chair of the Institute, on "The Rise and Fall of Leonard Cohen."
All the lectures are at 4:30 p.m., at 2060 Mackay St., with refreshments to follow.