First-place showdown with Laval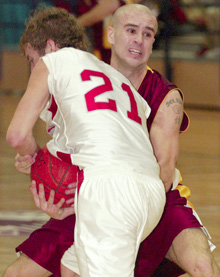 The gutsy Concordia Stingers men's basketball team kept pace with their archrivals from Laval by winning a pair of basketball games last weekend.
The Stingers dumped Bishop's 85-50 on Jan. 21 and McGill 79-58 to maintain their narrow first-place lead on the Rouge et Or. This sets the stage for the next Laval Concordia showdown tomorrow night at Concordia Gym.
"Our games against Laval are always a big deal," said Catherine Grace, co-ordinator of sports information at Concordia. "The games draw big crowds when we play up in Ste. Foy and also here at home. It really is great basketball."
Stinger head coach John Dore also knows that beating Laval is the key to his team's success. Both teams have only lost one game all year — to each other — and so Friday's game may well decide which elite squad will end the season in first place.
"Laval is a big tough team to play," Dore said. "We have proven that we stack up pretty well against them, though. The only way to beat them is to use our speed and finesse. You won't outmuscle the Rouge et Or."
After beating the Rouge et Or in Ste. Foy just before the holiday break, the Stingers found themselves right back in the Quebec City region in early January to open up the season's second half. Concordia lost the game, creating a logjam for first place.
During their break the Stingers won the annual eight-team Rod Shoveller Memorial Tournament, hosted by Dalhousie University in Halifax. They dumped the Saint Mary's Huskies 71-63 in the championship final.
Senior guard Phil Langlois led the Stingers' attack in the final scoring 13 points and adding eight rebounds and seven assists. He was named the tournament MVP.
Langlois, in his last year of eligibility at Concordia, is considered one of the premier university basketball players in Canada. The guard is on his way to winning Quebec MVP and All-Canadian honours if he keeps up the pace.
Laval and Concordia hit the floor at 6 p.m. tomorrow at Concordia. The Lady Stingers will take on Laval in a 9 o'clock tilt.