Raymond Marius Boucher: Set to take the stage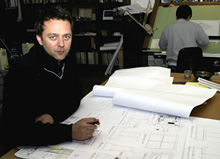 Set designer Raymond Marius Boucher just might be taking the stage at La Soirée des Masques this Sunday. Quebec's theatre community is hosting its 11th annual awards gala, and the Concordia assistant professor has been nominated for best set design for Romances et karaoké. The play is also up for best production for young audiences.
Boucher is the in-house designer for Montreal's Thèâtre le Clou, the youth-focused theatre company that produced Romances et karaoké. Written by Françis Monty and directed by Benoît Vermeulen, the play follows the anxious, awkward and passionate lives of four teens as they try to etch out their own identities — even if it means singing someone else's love song.
Boucher used simple blue screens to reinforce or blend the inner world of each character. In developing a concept for a set, he avoids literal interpretations of a playwright's work, choosing instead to emphasize a particular theme or statement. "I like to bring the poetry out of the script," he said.
He also designed the props and costumes for the play, which toured Quebec and Europe.
This is not the first time Boucher has been recognized for his unique and effective designs. Since 1995, he has received three other nominations in diverse categories for Claude Poissant's Le Triomphe de l'amour, Lorraine Pintal's Hedda Gabler and Vermeulen's Au Moment de sa disparition.
Having contributed to productions with Le Thèâtre du Nouveau Monde, Thèâtre du Trident, and Thèâtre Denise-Pelletier, Boucher is known for his peculiar floor treatments, for which he has used rock, fur, cork and even a transplanted garden. However, it's his approach to the entire theatrical space that makes his designs so successful.
"Set design is a very specific medium, because you work with the script, you analyze and interpret it within a space. I try to create a space that gives the author's text another dimension."
Before completing a two-year internship at the Stratford Theatre Festival, Boucher graduated from Concordia's Design for the Theatre honours program in 1988. Now, as assistant professor in the same program, he helps students through the process of conception, development and realization.
"Students must understand production realities and the importance of each step," he said. "You have to struggle to make sure the original idea is maintained right through to opening night."
In addition to theatre history, aesthetic theory and portfolio development, students in the program learn technical skills with materials, equipment and construction. They also have the opportunity to produce a show from start to finale: Concordia Theatre hosts plays twice each term, and Boucher is design supervisor of the productions.
Theatre is not the only medium for which Boucher designs. Michael Mackenzie's 2002 The Baroness and the Pig (set in 1880s Paris, shot in a Hungarian castle and produced by Montreal's Média Principia) is the first North American 'film' shot and distributed using only digital technology. Boucher was assistant artistic director to Ben Van Os. He has also designed stage sets for the Ballet Jazz de Montréal.
Boucher's latest space is an exhibition hall in la Grande Bibliotèque à Montréal. The new building, which he describes as "wonderfully vast," is set to open in April. Located in the lobby, the exhibit will draw on the history of national libraries in Quebec. "The mandate is to present the treasures of the library."
Boucher plans to accentuate the building using a variety of materials and media, including paper, engraved glass, sculpture and installation. The new space presents new challenges: an audience that can walk through the set. "The public will be able to appreciate the scenographic installation as well the architecture of the library itself."
La Soirée des Masques will be held Jan. 30 at the Monument National. The awards ceremony will be aired on Radio-Canada.