Nicholas and Sheila Pye: Together for their art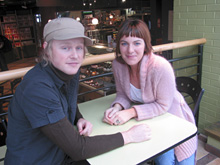 It's unusual for students to have an art show in New York, but The Paper Wall, a 10-minute video by Sheila and Nicholas Pye, accompanied by a body of photographic work, is currently being shown at the Sixtyseven Gallery, on 27th St. (www.sixtysevengallery.com)
The piece shows a man and a woman in separate bedrooms, a thin wall between them. As they go through choreographed gestures, including basic bodily functions, they communicate wordlessly with each other.
Their emotions range from fear to desire, but it may be their mutual dependence, expressed in a lovely metaphor of breathing — he exhales, she inhales — that viewers find most poignant.
The New York show, which came about as the result of an art fair in Florida, was a thrill. "There are more like-minded people [in NYC] who understand what you're trying to do," Nick explained
The Paper Wall won an award for best experimental film in Toronto last year at the Worldwide Short Film Festival, sponsored by the Canadian Film Centre, Norman Jewison's film school.
Next month they're going to Berlin for the 2005 Berlinale, or "Talent Campus." This is an all-expenses-paid week of workshops for selected young filmmakers from all over the world.
The Pyes — she's 25, he's 28 — met at the Ontario College of Art and Design. Even before they met, they were both making art about the body, so it seemed natural to them to make art together.
"We ran off got married in Italy," Sheila said, laughing. "When we came back, no one believed that we actually did it."
Sheila got a scholarship to do her Master's in Fine Arts at Concordia's Mel Hoppenheim School of Cinema, one of the few schools to offer an MFA in film production. Neither was a neophyte in the field; her background is in film and Nick's is in photography.
The Paper Wall explores the central paradox of being a couple: the intense desire to be the other and yet to be one's self. To express it, the Pyes use a range of cinematic devices, and through their graduate work, they continue to develop their film production skills. At the same time, they're using everything they learned at art school, painstakingly creating their film sets themselves.
As for their being featured in their own art, they don't see themselves as actors, more as art objects, tools of the idea driving the work. While they would welcome making their art more widely accessible, they're unlikely to make it more commercial. It's art, not the movies.