Greek culture enriches lecture series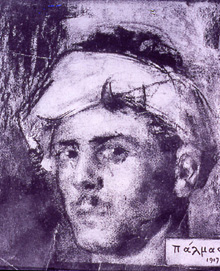 If you're seduced by the marble beauty of classic Greek sculptures and enchanted by the intrigues of classical drama, this year's Hellenic Studies Lecture Series is for you. It covers the three distinct periods of art in Greece, ancient, Byzantine and Neohellenic.
The series started Jan. 21 with a lecture by Nikos Hadjinicolaou, an art history professor from the University of Crete. His talk focused on painting in Greece over the past 150 years.
On March 11, Lambros Kamberidis, a priest and doctoral candidate from theUniversité de Montréal, will speak about Byzantine arts and iconography, and on May 20, Nota Kourou, an archeology professor from the University of Athens, will give a lecture on ancient Greece and its artistic life.
This is the fifth edition of the series, organized by the Hellenic Studies Unit at Concordia. So far, more then 15 scholars from Canada, U.S. and Greece have exchanged ideas on topics as diverse as Greek morphology, Byzantine studies, the Olympic games and Greek identity.
All the lectures have been videotaped and are available on VHS tapes. In addition, the lectures have been published as monographs and can be purchased from the Hellenic Studies Unit.
Nikos Metallinos, a longtime professor in the Communications Department, is one of the unit's founders and the current co-ordinator. He works assiduously to promote Greek culture to the university community and the public at large.
Metallinos said with pride that he started organizing Greek organizations and associations while a student in the States and he hasn't stopped since. He is one of the founders of the Hellenic Cultural Institute in Montreal.
"From the very beginning of my life in North America, I have been involved with Greek culture," he said.
Metallinos has a BA from the Modern School of Theater Arts of Greece and a PhD in communications from the University of Utah. He is fond of Greek traditional dancing, which he taught for many years after coming to Canada.
The Unit came into being in 2000 in response to the growing Hellenic community in Concordia. Now it has three main objectives: to enlarge the curriculum offering elective courses on Greek themes, to organize the lecture series and to work co-operatively with the other universities in Montreal.
Students can choose courses from the interdisciplinary Greek Studies cluster, which offers classes in ancient Greek language, Greek history, drama, philosophy and literature, as well as Greek for native speakers.
The response from students has been "fantastic." Many of the students do not have a Greek heritage and come from a variety of non-humanities disciplines, like engineering. According to Metallinos, this just proves the wide-reaching appeal of Greek culture.
Paris Arnopoulos
The Unit also grants an annual scholarship in the name of Paris Arnopoulos, a professor emeritus in the Department of Political Science and a generous contributor to the Unit. The amount of $1,000 is awarded to an undergraduate or graduate student not necessarily of Hellenic origin, but involved in an area of study related to Hellenism.
The Unit holds summer media seminars sponsored almost entirely by the Greek Ministry of Press and Mass Media that give 20 communication students from Canada and the U.S. a week in sunny Greece.
There they attend lectures and workshops presented by Greek media professionals, visit Greek media companies, and get a firsthand experience of the country's rich culture during archeological excursions.
To qualify for the seminars, these students have to be of Greek descent, enrolled in communications and inclined toward a media career. For more details, contact Nikos Metallinos at nicos@vax2.concordia.ca or at ext. 2536.
Among Metallinos' future projects is the establishment of a Greek chapter of Concordia's Alumni Association, which would draw together more then 1,500 Concordia alumni of Greek origin, now scattered around the world.