Singer Jeri Brown wins Martin Luther King Award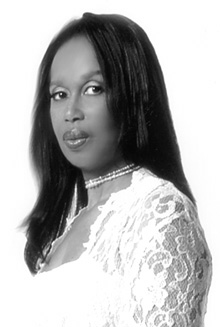 Jeri Brown, Associate Professor of Music at Concordia University, is this year's winner of the Martin Luther King Jr. Achievement Award, in recognition of her contribution to the development of black performing arts and cultural life in Canada.
The Montreal-based singer met the great civil rights leader when she was growing up in St Louis, Missouri, during a time of racial segregation and oppression. Since that time Martin Luther King's legacy and Jeri Brown's career have grown to the point where she is now being honoured in his name.
Since 1991 Jeri's association with Canadian jazz label Justin Time records has resulted in nine CD releases, most of which have been nominated for a Juno.
In 2001 she released Image in the Mirror: The Triptych, based on the music of Milton Sealey. Her collaboration with Sealey was fortuitous.
"This 70 year-old man introduced himself to me after one of my shows in Montreal," she said. "He gave me all his never-recorded music, and he had such a gentle disposition, and the music was astounding."
The Bud Powell-influenced compositions were fresh and original and with the addition of Jeri's lyrics and a dramatic narrative, the resulting one-woman show was a hit. However, the glitz and glamour of show business don't detract from Jeri's commitment to teaching.
"Performance is an extension of teaching for me," she said. "Part of my responsibility as a performer is to demonstrate the art form, the historical music, that my students learn."
Jeri's high profile also acts as a selling point for Concordia's music program.
"Most of my performing is done in Europe, and wherever I go I act as an ambassador for Concordia. I've had many students who weren't aware of Concordia before they heard me perform. As a result we've had many students come from different parts of the world to study with us, and our program incorporates a lot of different styles, from pop to jazz and blues to different kinds of world music."
In addition to teaching singing, Jeri and her students produce an annual Broadway-style musical in Oscar Peterson Concert Hall, a venue she describes as "beautiful," with an "impeccable sound for jazz."
This year's show, running from April 6 to 8, will be Gospel in Colonus, a modern-day version of Sophocles' Oedipus Rex set in a church in Harlem. Other upcoming events include a Centraide-sponsored Celebration of Langston Hughes on Wednesday, Feb. 2, and a CBC broadcast of Jeri's tribute to Nina Simone.
The opportunity to explore music within an academic context is one Jeri values.
"It's wonderful to be in an educational environment where I can write and experiment with new material. There's nothing about teaching and performing that are in conflict in my world — although scheduling can sometimes get a little difficult!"
The Vision Celebration Fundraiser Gala, which includes the presentation of the Martin Luther King Jr Achievement Award to Jeri Brown, as well as a display of artworks by her mother, Vera Shelton, will be held at the Omni Hotel, 1050 Sherbrooke St. W. on Saturday, Jan. 29. For more information, call (514) 932 1104 ext. 223.
A Celebration of Langston Hughes, also featuring a tribute to Dave Brubeck, is at Oscar Peterson Concert Hall on Feb. 2 at 8 p.m. All proceeds support Centraide and tsunami relief operations. For more information, call (514) 848-2424, ext. 4848.