African children get their own animators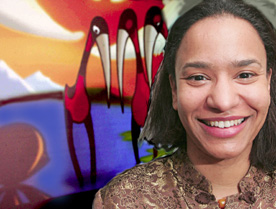 If the global village does indeed exist, some of its members are being overlooked. In Africa today, most children's animated television programs are imported. However, an innovative UNESCO program is hoping to change that.
Last summer, Cilia Sawadogo, a professor at the Mel Hoppenheim School of Cinema, joined other animators from the USA, UK and Ghana to teach at Africa Animated!
This training and production workshop, sponsored by UNSECO, the education arm of the United Nations, started as part of the Zanzibar International Film Festival (ZIFF) and grew into a five-week workshop in Nairobi at the Kenya College of Communication Technology (KCCT).
There isn't a lot of African animation, because there isn't an infrastructure; facilities and people with animation computer skills are in short supply. Africa Animated! was a seed project designed to train animators to train others.
"The idea was to create a workshop and have people create animation with African content, African people and African values. We had artists from Uganda, Kenya, Tanzania and other parts of East Africa," explained Sawadogo.
The 15 participants had little or no previous training, but underwent an intensive animation program designed for them. It included drawing techniques, scriptwriting, and storyboarding, with the ultimate goal of creating short, original animation pieces to be shown on African television. Sawadogo donated her expertise and brought along computers and software.
"It was such an interesting mix," she said in an interview. "Basically, we gave UNESCO a shopping list of what was needed and then built the studio from the ground up. Everyone brought something from their university, like computers and software. We all lived and worked in the same compound with our drawing tables in the same room."
Africa is a continent bombarded with North American images. Satellite television reaches the most remote villages, but since there is little local content, children end up watching American television.
"We interviewed several young people and they showed us their portfolios. They were exactly what you see here — all white, blonde girls with skinny waists. There was no cultural difference and I was shocked.
"Too many of them would come up with these ideas they thought would please us, but the ideas were like everything else out there. We spent a lot of time storyboarding to teach them that African things were worthwhile and valuable."
Sesame Street
Educational cartoons can be powerful in Africa. In 2002, Sesame Street made world headlines when it introduced the first HIV-positive puppet, Kami, on its South African show, Takalani Sesame. In April, 2005, Kami talked about "edutainment" at the World Bank.
Many educators see this kind of animation as a crucial part of African education. While encouraging participants to develop their own technique and style, Africa Animated! gives them a way to address social issues, such as working children, forced marriages and discrimination.
"We had a wonderful piece done with puppets. One of the characters had a spring leg done out of wires, and he is discriminated against by his peers because of this leg. One day he discovers he is a very good football player because of his springy leg."
Plans are underway for a second Africa Animated! this summer in Nairobi.
Sawadogo is also hoping to premiere some of the 2004 films at the African film festival, part of Vues d'Afrique, held in April.