Staff member experiences Ukrainian protests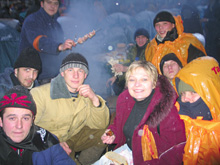 Chris Mota knew when she paid her first visit to Ukraine in 2003 that she'd be back. She didn't expect it to be so soon, or under such dramatic circumstances.
As media relations co-ordinator for the university, she deals with reporters on a daily basis. When election results were contested by supporters of reformist candidate Viktor Yushchenko and crowds filled the streets day after day, she got calls from reporters who needed her help as a translator.
She told her supervisor, Evelyne Abitbol, who went to Vice-President Marcel Danis and convinced him that the university could be of service to local media by paying for her flight.
Mota has been devoted to her Ukrainian heritage all her life. Her parents met during the Second World War in northern England, where they had been evacuated.
Sir George Williams University alumnus Mykola Plawiuk is a relative by marriage whom Mota thinks of as an uncle. He was the president of Ukraine in exile from 1988 to 1992, elected by thousands who were waiting for the Soviet Union to loosen its grip on the country. With this election, they were hopeful — but what seemed to be widespread electoral fraud robbed them once again.
Mota stayed in her uncle's apartment, and worked furiously throughout the week she was there, helping journalists from La Presse, Journal de Montréal, Maclean's, and others.
She reported that Kyiv has come a long way over the last few years, but it was still difficult to get Canadian cell phones to work, so the journalists had to buy new ones. Internet access was a nightmare.
E-mails she sent from Kyiv give a taste of the atmosphere. On the first day: "As we walk down Hrushevskoho to Khreshchatyk we are surrounded by pro-Yushchenko supporters heading to Maidan Nezalezhnosty (Independence Square) chanting "Razom nas bahato, nas ne podolaty" — "Together we are many, we won't be defeated."
"The closer we get to the Verchovna Rada (Ukrainian parliament) we hear the sound of beating drums. On the crest of a hill in Mariyinskij Park, facing the Ministers' Building, are dozens of young men and women beating on makeshift drums — metal garbage cans and oil drums."
Bonfire
On another day: "I come across a group of about 10 young men huddled together around an oil-drum bonfire roasting shashlik. They are students from Lviv and Ternopil.
"When I tell them I am from Canada, a stool is immediately vacated for me. I have many questions but they have even more.
"'What are they saying about what is going on here? What does Canada think?'
"I hold up my orange Yushchenko ribbon and tell them, 'This is what Canada thinks.'
"They slap each other on the back, rejuvenated. They know they are making a difference."
After Mota returned to Canada, on Dec. 26, another election was held, which Yushchenko decisively won.