Solar Decathlon team are ready to build their house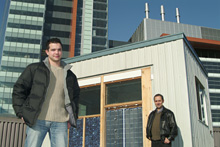 Energy-sustaining homes, though relatively common in Japan and Germany, are more often found in classrooms and laboratories than in subdivisions across Canada.
Master's student Mark Pasini is one of about 40 students from Concordia and the Université de Montréal who are building a solar-powered home for the International Solar Decathlon, to be held. Oct. 7 to 14, 2005, in Washington, D.C.
The students have to operate a home equipped with regular appliances like a stove, refrigerator and dishwasher for a week on solar energy alone. They also have to maintain a steady temperature of between 22.2 and 24.4 degrees Celsius inside the house at all times.
The $70-million International Solar Decathlon was born out of growing concern over the global energy crisis, the climbing price of natural gas and oil, and increasing conflicts over access to oil in the Middle East.
Pasini says the shift towards solar-powered homes is inevitable. In fact, he's convinced that with the right government incentives, it's going to start happening over the next few years.
The Concordia-U de M contingent is the only Canadian team in the competition, up against 18 teams from the U.S. and abroad. They are all trying to achieve the same goal: to construct the best and most functional home powered completely by sunlight.
Construction on the energy-efficient residence begins in February, but planning has been underway for quite some time.
Alouette Homes approved the team's architectural drawings this summer, and the construction drawings are now underway. The Granby-based company, which builds modular homes, is sponsoring Concordia's entry and will be constructing the basic structure free of charge.
In addition to the model donated by Alouette, help from the federal government and an electric car donated to every team from GEM, the Concordia team is seeking other sponsors to help with building costs.
They are currently in talks with several Canadian companies for their solar panel supply and may be on the receiving end of a dozen 300-pound batteries from Surrette that will be used to store the solar energy.
The panels use the concept of BIPV (building integrated photovoltaics), which involves integrating solar panels into rooftops rather than having them stand out like eyesores.
They can also be used to cover rooftops like a shingle would today, but they are still much more expensive than regular shingles, costing an average of $400 dollars per square metre. That's much more than for regular shingles, so donations and corporate sponsors are crucial.
Pasini and his fellow students have found ways to optimize the efficiency of the solar panels. That means that they are able to harness up to 25 per cent more energy with their technology.
"Normally, you only get electricity out of the panels, but we're able to use it [so efficiently] that we can heat our space and water."
The model will be assembled on Concordia's Loyola Campus, its final resting place. Whether or not it wins next October, that will be its permanent home as a research centre or teaching facility. It will demonstrate advanced solar technology as well as Concordia's commitment to sustainable development.
The project is getting a lot of media attention. The Discovery Channel is producing a documentary on the Solar Decathlon, and will be doing segments on each team. Global Television and CBC are also covering the team's entry.
The team includes students from two Concordia departments, Building, Civil and Environmental Engineering and Computer Science, plus several architecture students from the Université de Montréal.
Professor Athienitis is envious. "I wish I'd had that when I was an undergraduate student. They learn everything about the practical aspects of engineering." He is working on a related research project, and plans to build a solar-powered home of his own. "It's going to be as comfortable as possible, almost like a live-in laboratory."