Standjofski play onstage at D.B. Clarke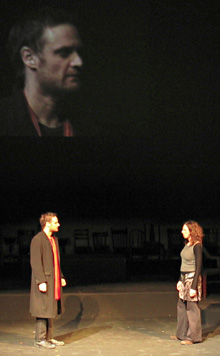 The university is making a strong effort to bring theatre alumni back.
The first such venture is a production in the D.B. Clarke Theatre of Here and There, by Harry Standjofski. Amy Barrett, of The Mirror, called it "the best comedy about war and sexuality since Lysistratra"; The Gazette's Matt Radz was less keen.
When the Theatre Department created a section for alumni on their website. More than 100 alumni responded.
Last fall, during Homecoming, the Theatre Department held a highly successful Alumni Cabaret, which looks to become an annual event. Held in the FC Smith Auditorium, it attracted over 250 people and generated almost $2,000 in donations for scholarships..
Now the department is offering a break to students and alumni in the form of an "alumni rate" for the D.B. Clarke Theatre, in the Hall Building.
The discount is offered to companies whose production provides employment to alumni and pinternship opportunities to students. Proceeds from one night's performance are to be donated by the company for scholarships for Theatre students..
Here and Now continues in the D.B. Clarke until Feb. 12.. Tickets are $16 to $20, and may be obtained by calling 342-8320.