Sculpture will celebrate First Nations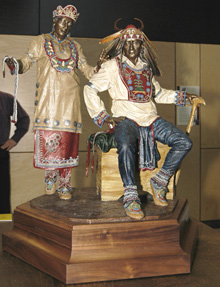 A large, brightly coloured bronze sculpture of a traditional Mohawk ceremony has been donated to the university for the quadrangle near the Richard R. Renaud Science Complex.
American Realist sculptor Dave McGary was commissioned to create the piece, and a reception was held Feb. 4 in the foyer of the Science Complex to celebrate the project.
McGary is from Wyoming and works out of New Mexico. His sculptures of Native Americans are widely sold to galleries, individual collectors and major public institutions. This is the first time his work has been based on the aboriginal people of the northeast.
The 14-foot sculpture, called The Emergence of the Chief, depicts a seated male chief receiving a wampum belt from a standing woman.
There are many visual cues on the detailed, realistic piece that refer to the Mohawk creation story, to the traditionally matriarchal society, and to the Iroquois Confederacy, which comprised the Mohawks, Oneidas, Onondagas, Cayugas and Senecas.
Two students in Fine Arts will work on the production of the piece, Jean-Sébastien Gauthier and Myriam Leblanc-Van Neste.
Both are majoring in sculpture, and it will be a great opportunity for them to learn from a master bronze-worker. The sculpture is likely to be ready for installation this fall.
This project was sparked by the enthusiasm of Mr. Renaud, who heads a group of subscribers funding the project.
It also found ready acceptance from the Mohawk community at Kahnawake, with whom the artist talked as he designed the piece. He also consulted with Moira McCaffrey, of the McCord Museum, who helped supply many of the costume details from artifacts in the collection.
The sculpture was welcomed by President Frederick Lowy, who said he and others at Concordia had been moved by the native blessing at the opening of the Science Complex in September 2003.
For the Mohawks, Chief Michael Delisle, Jr., said that the statue was more than symbolic.
"It shows great respect for our people, and is recognition of the real place of the Mohawks on the island at Hochelaga."
Medium-sized bronze works in the same style as the full-size sculpture have been pledged to sponsors, and the proceeds will go into an endowment for aboriginal scholarships.