New opera inspired by Yeats premieres here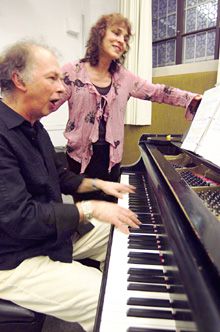 The Oscar Peterson Concert Hall will see the world premiere of an opera by John Plant on Saturday, Feb. 26.
The Shadowy Waters is scored for five singers, harp, percussion and piano. In an e-mail interview, Plant explained that he was inspired by the play of the same name by William Butler Yeats, the great Irish lyric poet.
"The poetry of Yeats has been an inspiration to me for a long time, as has the voice of my wife, mezzo-soprano Jocelyne Fleury, for whom the role of Dectora, the queen, was composed. The work is dedicated to her. I can't overemphasize her crucial role in my creative work."
Opera has been Plant's passion since he was 10 years old. This is his second opera, "apart from childhood efforts."
"Almost all my music is vocal. I have written a number of cantatas for voice and orchestra, voice and string quartet, voice and chamber ensemble — settings of poetry by Sappho, Garcia Lorca, E.E. Cummings, St. John of the Cross, Lawrence Raab, a magnificent American poet, and Goran Sonnevi, a fine Swedish poet.
"My first opera was based on Gertrude Stein's Doctor Faustus Lights the Lights. The initial version was for dancers, and then it was rewritten for singers."
This being a concert version of the opera, only the central character, played by Fleury, will be in costume. Fleury has given many premieres of works of Quebec composers, including Claude Vivier's opera Kopernikus. She has performed widely in France, Italy, Belgium and England.
"The performers are all professionals except for Clayton Kennedy, who is a student of Jocelyne at Concordia, and is making his operatic debut in this production. He has just been awarded a major scholarship from Concordia," Plant said.
The other performers include Franco Tenelli, who has just returned from a triumphant American engagement as Macduff in Verdi's Macbeth. He has sung in major roles in Italy, Russia, Turkey, the USA, and Canada.
Neil Aronoff, a McGill graduate, is now in Toronto, where he has achieved particular success in the Mozart baritone roles such as Leporello in Don Giovanni. Alexandre Malenfant is enjoying an international career, especially in the operas of Donizetti and Rossini in Paris and Lyon.
Immortal love
The story of The Shadowy Waters concerns a "sea king" who yearns for an immortal love and finds it, despite two man-headed birds that foretell death. True to Yeats' love of ancient Irish lore, it is a tale of dreams and magic.
Plant said, "The challenge is to create a musical structure which reflects and enhances the drama, while being musically coherent and satisfying in its own right, and to translate the immense power, eloquence, and magic of Yeats' poetry into the realm of music.
"This includes timing everything so that the music and drama unfold together in a way that seems inevitable and powerful, and making smooth, strong transitions from one episode to another."
Plant told CTR he came to Montreal during the Vietnam War as a draftdodger, and has been a Canadian citizen since 1973. He was born in Yonkers, N.Y.
His composition teachers included George Todd, Bruce Mather, and Charles Palmer. His works have been performed by the Montreal Chamber Orchestra, the Molinari String Quartet, the Quatuor Claudel, L'Ensemble du Jeu Present, and the Talisker Players.
Plant has been teaching a course called Sound and Silence for the Dancer in the Contemporary Dance Department at Concordia for many years, and has also taught composition area in the Music Department. He is teaching the second-year composition course this term.