Mikhail Iossel makes the transition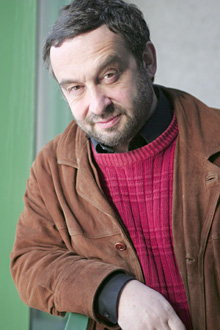 Mikhail Iossel knows a thing or two about electromagnetic fields — but don't assume this native of St. Petersburg is a new professor in engineering.
Iossel, an engineer by trade who used to work on the electrical defense systems of Russian submarines back in the era of the Soviet Union, has joined the university's English Department this year as a professor of creative writing.
For Iossel, an award-winning author of fiction in both Russian and English, the move to Concordia after 18 years in the United States represents the latest step in his pursuit of his life's passion: literature.
He came to Montreal last fall from upstate New York, where he was writer in residence at Schenectady's Union College for nine years after stints at creative writing programs in New Hampshire, Iowa, Minnesota and New York.
Now, buoyed by the city's cosmopolitan spirit and Canada's relaxed political climate, he's continuing to pursue his literary activities. In addition to teaching and writing, he organizes conferences in St. Petersburg and in Kenya, a country he knows well because his wife is Kenyan. The St. Petersburg Summer Literary Seminars, of which he is the founding director, is now one of the largest international writing conferences in the world.
"I'm very glad to be here," he said. "As a product of urban upbringing, I tend to feel much more at home in the heart of a big city than on its periphery — and Montreal is brimming with heady metropolitan air.
"There's a liberating sense of possibility here, a sense of unfettered freedom."
Iossel should know. Back in the Soviet Union, his activities in literature were hidden. He belonged to an underground community of writers and used to work on clandestine literary magazines that were distributed throughout the country.
As the Soviet Union was closed off to the outside world in the Communist era, the semi-official literary club he belonged to depended on foreign visitors as a source of English-language books.
"Sometimes they would bring purely commercial fare, but occasionally it would be something along the lines of Gravity's Rainbow," Iossel recalled, referring to one of the famously abstruse Thomas Pynchon cult classics. "It was a matter of luck, and that's how many of us learned English."
In 1980, Iossel applied to leave the Soviet Union. Six years later, he immigrated to the United States, determined to turn his passion into his job. "I did not want to be an engineer, I wanted to be a writer."
Soon, however, he realized he would not be able to support himself writing in Russian in the U.S. Learning to write in English was essential, and Iossel enrolled in a creative writing program at the University of New Hampshire.
Eventually, he published a collection of short stories in English titled Every Hunter Wants to Know. He won the Guggenheim Fellowship, a prestigious U.S. literary award. Currently he is completing another book of three novellas.
A number of his stories follow the life of a fictional character in many ways like himself — "but not quite." Set in the Soviet Union and the United States, they're layered stories, dealing with themes such as memory and moral choices.
"People are constantly presented with circumstances where they take stock of their lives," Iossel said about the themes of his work. "Usually it happens when someone realizes that he's pushed himself into a corner, and how to get out of that corner is not quite clear.
"But life goes on; it needs to, no matter how horrible the circumstances might seem. We're always in the process of closing old chapters and opening new ones."
As to the new chapter in Iossel's own life, he's "very happy" to have come to Concordia from Schenectady. He's been pleasantly surprised by the vitality of literary life in Canada, and counts himself fortunate to be able to further his passion here.
"Those who manage to go through life doing the things they love are fortunate, because most people don't have that option," he observed. "But I do, and I'm lucky for that."