Videographer Liz Miller profiles a U.S. city in hot water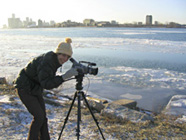 For Liz Miller, working with video is about more than simply capturing the spectacle. The assistant professor Communication Studies believes that media are a means to democratic change, and small struggles often suggest larger issues.
Her current project is called High City, a feature-length documentary examining one community's struggle to maintain control over municipal water.
Miller, who has an MFA in Electronic Arts from Rensselaer Polytechnic in Troy, NY, has been interested in community-based, participatory research since her early days in university.
While completing her undergraduate degree at the University of Massachusetts in Amherst, she studied social thought and political economics, with a focus on Latin America. Her interest led her to live in Nicaragua, Belize and Costa Rica for five years.
"Officially, I was running an alternative study abroad program that placed students in internships," Miller explained "Instead of formal classes, you might pick coffee beans with disabled young people on an organic farm, or work on a women's co-operative, perhaps, cultivating medicinal herbs."
The program placed a strong emphasis on praxis, aiming to get students out of their textbooks and into the world. Sociology students, for instance, could be placed in a battered women's centre in Nicaragua, and could help to develop materials for young girls as part of a campaign.
This same mentality pervades Miller's own documentary film work; she seeks to actively involve communities in their own representation. Miller borrows the term "citizens media" from University of Oklahoma scholar Clemencia Rodriguez, and views alternative media as a necessary means of enacting citizenship.
Highland Park
High City examines the Michigan community of Highland Park. Once a thriving community of 60,000 people, the city is often cited as the birthplace of the Ford empire, and served as the headquarters of both the Ford Motor Company and Chrysler Corporation.
Factory closures have been devastating for the city, which is now home to a fraction of its previous residents. Designed to handle a large population, the city's infrastructure is buckling under the financial weight of increased vacancy and joblessness in the area. Money has become so tight that the city was compelled to close the public library.
In the midst of this financial crisis is a contested resource, the Highland Park water plant, built by the Henry Ford plant in the 1800s to generate enough water for both the city and the factory.
It is one of the city's greatest resources, and the financial managers are investigating the possibility of selling the excess water to other cities. The plant and the expansion would require a major financial investment, and the city is broke.
While the financial managers are looking to private industry to foot the investment, the citizens of Highland Park are struggling to keep the water in public hands.
Miller explains that the citizens of Highland Park know how to put up a fight.
"Many residents worked in the factories for years, and have been involved in civil rights, welfare rights and labour struggles."
While the movie's original intent was to study the management and control of public resources, Miller says it has quickly become a medium to examine larger social issues.
"I've learned a lot about what makes a city run," she said. "I thought that I was profiling a city struggling for water, but what they are really demanding is a say in how their city is governed, so in effect, this is a film about participatory local democracy."