Stinger grid stars end season with awards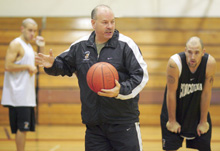 Talk about going out with a bang. Concordia's fifth-year senior middle linebacker Mickey Donovan and defensive end Troy Cunningham were given two major awards at the Canadian Interuniversity Sport (CIS) awards last weekend in Hamilton, Ont.
The ceremony was a prelude to the Vanier Cup championship game, won 7-1 by Laval over Saskatchewan last Saturday afternoon.
Donovan was awarded the President's Trophy as the outstanding defensive player in Canada.
It is the second consecutive year Donovan was named the top defensive player in the Quebec University Football League (QUFL). He has been a powerful presence in the Quebec conference since transferring from the University of Maine and joining the Stingers in 2002.
"I think he is the most dominating defensive player I have ever seen," said Concordia head coach Gerry McGrath. "If you run at him he makes the tackle, if you run away from him he makes the tackle. He's excellent at dropping back into pass coverage. He's big, he's strong, he's fast and he has great intuition."
This season, despite being bothered by injuries and playing parts of only six games, he was named QUFL Defensive Player of the Week on two occasions.
"He's really only played healthy in four games and when he's healthy he's unstoppable," McGrath said.
"Just look at his game against Laval on Oct. 30 (14 solos, 4 assists, 1.5 TFL, 1 FF, 1 sack). He's the hardest worker on our team, one of the most unselfish players I've ever coached and the best linebacker in the country."
Donovan has drawn the attention of several professional teams over the last couple of years. NFL teams, notably the Cleveland Browns, have sent scouts to see him. He has also worked out for the Detroit Lions. McGrath is convinced his star linebacker has a great future ahead of him in the CFL or NFL.
Cunningham was presented the J.P. Metras Trophy as the outstanding lineman in the country.
His prowess enabled him to pick up 54 total tackles this season, which is second in the Quebec University Football League (QUFL) and seventh in the CIS, an unprecedented feat for a lineman. Even more remarkable are his 19.5 tackles behind the line of scrimmage, including 10.5 sacks which is the highest number in Canada this season.
Dominant
"He is the dominant defensive lineman in the country," said Concordia defensive co-ordinator Warren Craney. "He has been exceptional in every game. With Troy they can run, but they can't hide."
Cunningham's 10.5 sacks set a new conference record, eclipsing the 9.5 sacks recorded by McGill's Steve Young in 2002. It also falls just shy of the CIS record of 11 sacks in a season established in 2001.
"You can't run at him and it's worse when you run away from him," Craney says.
"He's six foot four and 270 pounds and he's as fast if not faster than any running back in our conference. He's run every one of them down."