Cagey Stingers must rely on finesse, speed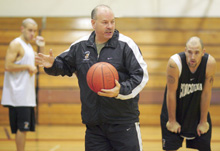 Mission accomplished — at least so far.
The players on the Concordia Stingers basketball team set a goal of finishing the first half of the season at a perfect 5-0 heading into the Christmas break. That came to fruition last Sunday night when the Stingers upended the previously undefeated Laval Rouge et Or 71-50 in Ste. Foy.
Head coach John Dore, in his 15th year at the helm of the Stingers, doesn't like to make predictions, but he knows a lot is expected from his Stingers squad this season. Concordia lost only one league game last year before being unceremoniously upset in the playoffs by Bishop's.
Dore doesn't want that to happen again.
"We have a good basketball program here at Concordia and I think a lot of people started to notice that when they saw how we performed against some of the top U.S. Division 1 schools," Dore said.
"Everyone talks about how great the schools are down there in terms of basketball and they're right, but we've got some competitive programs in Canada too, and we do it with far fewer resources."
The Stingers beat the University of New Hampshire and were also very competitive against both Virginia and St. John's (N.Y.).
"Playing the U.S. schools was great for our kids," Dore said. "They treated us so well down there. It should also make us a more seasoned team and that should help us when we play teams in our own conference."
The Stingers suffered a setback when they lost six-foot-five forward Jon Dresner to injury in the St. John's game. A fractured hand will likely keep him out for the rest of the season.
Juggling
The key injury means Dore and his coaching staff will be forced to do some juggling with the line-up.
"We're a small team that just got smaller," Dore said. "We will have to rely more on our speed, especially against big teams like Laval.
"We will miss Jon, but we'll just have to be more creative on both offence and defence. We are a finesse team. That's the way we have to play to be successful. We won't be able to outmuscle too many teams."
Key players still in the line-up for the Stingers include Philippe Langlois (forward), Patrick Perrotte (forward), Ben Sermonte (guard) and rookie Dwayne Buckley (guard/forward).
Dore was asked to weigh in on the recent NBA brawl in a game between the Detroit Pistons and Indiana Pacers that saw fans and players throw punches at each other. Many are considering it one of the worst spectacles in the history of team sport.
"There's no doubt a line was crossed by both the fans and players," Dore said. "The fan who threw the drink at the player which started it all should be prosecuted. As a player, you have to try and keep you cool no matter what happens, though."
Dore said that while he hasn't seen anything to that degree at the university level, he has threatened to pull his team off the floor a couple of times.
"I remember fans became unruly in games at Waterloo and Bishop's (Lennoxville)," he said. "Both times it involved drunken fans and racial slurs directed at our players. I won't tolerate that. In both instances the fans involved were thrown out of the gym and we continued playing."
Stingers fans will have to wait a while to see their heroes in action again — unless they take a road trip. Concordia will play in a tournament at Dalhousie Dec. 31 to Jan. 2, and won't play another home game until Jan. 22, when the McGill Redmen visit the Loyola Gym.
"We play good, exciting basketball," Dore said. "I think more people are starting to realize that."