Relaxing CD from Nancy Helms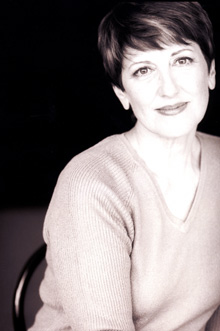 Theatre professor Nancy Helms, who teaches voice, singing and acting in the Theatre Department, did the vocals on a new CD that earned a nomination for a Felix, French Canada's awards for best music album, in the instrumental music category.
The CD didn't get a Felix (the awards were announced recently), but it will be entered in the competition for a Juno, its English-Canadian counterpart, this spring.
It is the second CD they have collaborated on. The first one, The Silent Path, went gold in the relaxation music category, selling over 65,000 copies.
Coxton, a composition graduate of McGill, writes for film, television and theatre. On this album of relaxation music, he uses synthesized and real instruments, including cello, flute, oboe, bass, violin and voice.
Helms said, "Robert's intent was to subtly blend classical structure with contemporary sound to create an atmosphere of peace and tranquility.
"My contribution to the album was as the solo 'angel voice,' and as the 'real' voice for soprano, alto and tenor choir parts, which were mixed with synthesized choir sounds to create a large choral flowing, human sound for the compositions."
As an actor and singer, Helms has performed in opera, music theatre, film and television as an actor and singer. She acquired her skills with some of the best, including studying theatre at the University of California, mime with Jacques Lecoq in Paris, and various theatre skills in the U.S., including Harvard.
As well as performing in theatre productions in the United States, Canada and abroad, she has been a teacher, conducting workshops at international conferences and teaching and directing at the Banff Arts Centre.
She also works as interpretation coach, dialogue and dialect specialist in the theatre, film and television industry in Montreal.
Right now, she is completing a book on sound therapy.
"My current research is focused on examining the human voice as a therapeutic instrument, seeking to understand its influence on vocal neurophysiological functions and their implications in restoring balance and interconnectedness at the cellular level."
Helms is giving a presentation at the IN-CAM Symposium (Canadian Interdisciplinary Network for Complementary and Alternative Medicine Research) in Toronto Dec. 4 and 5.
She calls it "The Healing Art of Sound, Music and Vibration: Remembering Self Through Sound." The symposium is sponsored by the Canadian Institutes of Health Research and the Natural Health Products Directorate.
Helms has explored with several Concordia colleagues the idea of starting a holistic voice centre to "release and retrain the voice," and still has hopes that they can get funding. "Europe and the United States are far beyond Canada in this respect."
She is active in the field of alternative medicine, and joined the newly formed Canadian Interdisciplinary Network for Complementary & Alternative Medicine Research (IN-CAM).
"I joined it to help build a network of complementary and alternative practitioners and to enhance and develop research capacity in Canada.
"I will be giving a presentation on sound therapy at IN-CAM's first symposium this December at the University of Toronto."