David Suzuki on trees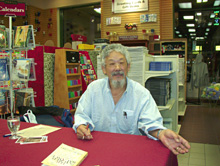 Before speaking to an overflow crowd of students Nov. 18, David Suzuki signed copies of his latest book, Tree, A Life Story, at the Concordia Bookstore.

The well-known environmentalist, who came fifth in the recent competition for The Greatest Canadian, talked about the interconnectedness of living creatures and the need to curb our excessive consumption. He urged his audience to sign a pledge to protect nature for future generations. To sign up for the Nature Challenge, visit www.davidsuzuki.org.

The evening also featured a talk by politician and organic farmer David Orchard, who talked about the need for more research into organic agriculture, and stronger labelling laws on agricultural products.