Visiting artists bring latest ideas to students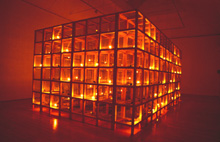 It was a full house at the Maxwell-Cummings Auditorium of the Montreal Museum of Fine Arts last month for a talk by artist Mona Hatoum, who presented a retrospective of her work from the 1980s to the present.
Born in Beirut to a Palestinian family, Hatoum began her artistic career in London in the '70s. Her early works were performance and video, using the image of the body as a metaphor for society. Now she has shifted her focus to installations and sculptures, through which she approaches issues of imprisonment, cultural displacement, home and the familiar.
She often uses grids and frames to convey these ideas. For instance, in one of Hatoum's 1992 installations entitled Short Space, two bed frames are suspended horizontally, invoking simultaneously images of absent bodies and prison bars. The piece belongs to the permanent collection of the MMFA.
"My work creates a feeling of uneasiness with the world," she said in her presentation. "No artwork has a single meaning, so I leave the interpretation open."
Hatoum's appearance in Montreal was part of Concordia's Studio Arts and MFA Visiting Artist Program. With a lineup of more then 20 artists, curators and art theoreticians from as far away as Serbia, Australia and Brazil, this year's program brings the latest trends in art to the university.
The visiting artists program has two components, explained co-ordinator Mary Sui Yee Wong. The Studio Arts Program was established in 1997 with undergraduates in mind. The MFA Visiting Artist Program addresses the graduate students and is more collaborative in nature.
Students get the chance not only to hear the artists talk, but also meet with them one-on-one or during seminars, where they can show their own work and receive expert comments and advice.
The artists' talks are usually held in lecture halls or studio classrooms on campus, but the Program also co-operates with venues in Montreal, Ottawa and Toronto.
"The Program is funded by the Studio Arts Department in collaboration with other facilities like Film Studies," Wong explained.
Support has come from other institutions, too, including the Canada Council. As a result, the list of visiting lecturers is growing in number as well as in prestige, and attendance has increased. Close to 2,500 people visited the 24 events offered last year, with as many as 100 people attending each lecture.
"We have witnessed a dramatic increase in the size of our audiences as well as an incredibly positive response from persons attending our events," Wong said.
After a break in December, the Studio Arts & MFA Visiting Artists Program returns in January with a full schedule of events, including talks by Osvaldo Yero from Vancouver, William Kentridge from South Africa, Ingrid Bachman from Montreal, Aganaldo Frias from Brasil, Allyson Mitchell from Toronto and more. For exact dates and times, visit http://studio-arts.concordia.ca/savap.html