Gateway to a quartier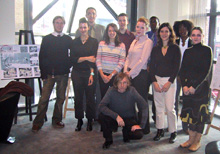 Students in Howard Davies' Collaborative Design Research course presented their ideas for a visual gateway at Guy and Sherbrooke Sts.
The idea for the project was sparked by a suggestion from the Association du Quartier du Musée, a group of business owners in the area, whose commercial activities are in an area that includes both the Montreal
Museum of Fine Arts and Concordia's downtown campus.
In their letter, the members said they conceived of columns or archways to be placed at the corner of Sherbrooke and Guy, and Sherbrooke and Drummond.
"Over time, we hope to add further doorways to the Quartier at the intersections of De Maisonneuve and Guy, and de Maisonneuve and Drummond."
These columns would mimic the neoclassical columns of the original MMFA, on the north side of Sherbrooke St. They would be lit at night, and would be quite tall.
The merchants have hopes that they will get approval from the City of Montreal to build these gateways, and funding to make it possible.
Davies said the students tackled the design assignment with enthusiasm. "They really appreciated the chance to work with a real 'client.'"
The 11 students, who are in second-year design, presented their ideas to members of the Association on Friday, Nov. 12.
Davies, who is an architect, called the students' projects "original and challenging."
"I think the Association was pleasantly surprised. If they had any preconceptions about what the gateways might be, the student work certainly presented other possibilities.
"The next step, and this is a big one, is going from a preliminary design proposal to a realizable project. This will be the biggest challenge for the students as they have very little experience in this regard.
"However, we have contacted the Faculty of Engineering and Computer Science, and they seem very willing to help out in this regard. The next step in this project may well involve the forming of interdisciplinary student teams involving designers and engineers."