What's in a dress?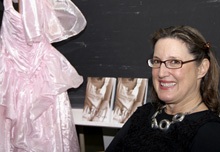 Education professor Sandra Weber recently released a new book inspired by the much loved and equally detested dress.
Not Just Any Dress: Narratives of Memory, Body and Identity is a collection of autobiographical stories, scholarly essays, poetry, and photography. The book, which was co-edited by Weber along with Claudia Mitchell of McGill, explores the visual, personal, and ritual significance of dresses in women's lives.
The Simone de Beauvoir Institute, where Weber is a fellow, hosted the well-attended launch.
Reading from "In Front of the Closet: (Ad)dressing the Academic," doctoral student Candis Steenbergen mused on stylistic self-expression and the fashion codes and conventions in the academy.
Concordia alumna Catherine Derry read from "I'll Never Find a Dress: Shopping for the Prom" while standing between the puffy pink chiffon dress she wore to her 1980s graduation and the little black dress that she wishes she had worn.
Roksana Bahramitash, who teaches Women in the Muslim World at Concordia, offered an engaging excerpt from her article "Revealing Veiling and Unveiling."
The diverse pieces testify to the role of the dress in constructing and contesting gender, sexuality, embodiment and subjectivity.