Interactive Wall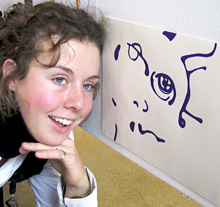 Fiona Annis, a third-year Painting and Drawing student, put a drawing up on the Interactive Wall.
It was part of a project by The Collective, a group of Fine Arts students and alumni who work in a collaborative fashion to produce their artwork.
Fiona's piece was later modified by another participant in the Interactive Wall project, but that is just part of the evolution of artwork that takes place with The Collective, which operates in collaboration with the Studio Arts Department.
More than 100 pieces of work were done during the show, and participants could rearrange the artwork on the Interactive Wall, allowing gallery visitors to become an art curator by choosing what should come down and what should go up.
As well, a panel discussion on collaboration in art at the VAV Gallery's Greater than One show, which included the Interactive Wall project, featured a drawing session.
Each member of the audience worked on a drawing as they listened, then passed it along for the next person to work on.
This project, which resulted in about 30 fascinating collaborative drawings which are expected to be shown at next spring's Art Matters festival, in March.
It was part of The Collective's interactive program, which is funded by the Fine Arts Student Alliance and the Studio Arts Department.