Aerospace opens doors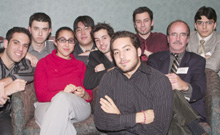 CIADI, the Concordia Institute for Aerospace Design & Innovation, held its fourth annual recognition ceremony to acknowledge its latest contribution to the future of aerospace: 63 eager young engineers.
Together with eight industry partners and the Consortium for Research and Innovation in Aerospace in Quebec (CRIAQ), the students have been able to get out of the classroom and do real aerospace projects with industry professionals.
Hany Moustapha is a Senior Fellow, Manager of Pratt & Whitney Canada Technology and Director of CIADI.
He calls the Institute "the first initiative in Canada to group eight major aerospace industries and CRIAQ under one roof to enhance the education of undergraduate students by providing them with real design and research projects."
Partners
The partners represented at the Nov. 23 reception included Pratt & Whitney Canada, Bombardier Aerospace, Bell Helicopter, EMS Technologies, CAE Inc., CMC Electronics, Héroux-Devtek, Thales and CRIAQ.
Three funding agencies are also involved: NSERC, Valorization Recherche Québec (VRQ) and the Quebec Ministry of Regional Development and Research.
Normand Giguère, from the ministry, announced an infrastructure grant of $310,000 to CIADI, and the students are being given $166,500 in NSERC undergraduate scholarships.
Recognition awards were presented to Wafaa Ishak, Chief Rotor and Mechanical Systems at Bell Helicopter Textron; Carlos Trindade, Administrator, Strategic Technology at Bombardier Aerospace; Gerhard Serapins, Manager, Research and Development at CAE; Hélène Chiasson, Assistant Manager at Pratt & Whitney Canada, and Shelley Sitahal, Manager, Industry and Partnership at Concordia University.
Assistant Professor Nadia Bhuiyan, associate director of CIADI, called it "a unique experience" for the students."
"It affords them the opportunity to put their engineering knowledge and skills to practice in the top aerospace companies in Montreal.
"I am impressed with the quality of these students, not only from an academic point of view, but also with their well-rounded personalities. CIADI students are a dynamic group, clearly headed for success in the future."
Mona Cherkaoui is a CIADI electrical engineering student working on virtual machine software for CMC Electronics under an NSERC scholarship.
"CIADI gave me a wonderful opportunity to get involved in a real-life engineering project, and the overall working experience gave me a better perspective on the engineering field," she said.
"The project developed by CMC Electronics gave me practical engineering knowledge and helped me acquire skills for research and development."
Since CIADI was created in 2000, 34 graduates have been hired by industrial partners and other companies, and 21 are pursuing graduate studies.
As well as their research projects, the students currently in CIADI participate in aerospace collaboration forums, conferences, workshops, and industry tours.
CIADI is collaborating with the Institut de conception et d'innovation aérospatiale (ICIA) at the École de technologie supérieure (ETS), and the Ryerson Institute for Aerospace Design and Innovation (RIADI)