Microbial engineer has a cheaper way to fight malaria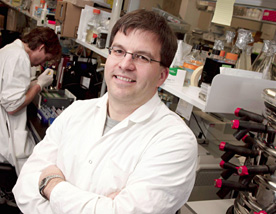 Hard work does pay off. Just ask Vincent Martin, a new biology professor at Concordia University, whose work, past and present, is turning a lot of heads.
Martin engineered a bacterial strain to produce a very potent anti-malarial compound called artemisinin while doing his postdoctoral research at the University of California at Berkeley.
Although Martin is no longer involved in the active research of this compound, his work, which was published in Nature Biotechnology in 2003, is gathering a lot of attention as different avenues for the commercialization of the drug are being explored.
Compared to current drugs such as chloroquine, artemisinin is fast acting. It is already used to treat malaria victims in different parts of the world, but it is very expensive at about $2 a dose. The production of an artemisinin-based anti-malarial drug using engineered microbes would come at a much cheaper price, a maximum of 30 cents, making it more accessible for developing countries such as Africa, where 90 per cent of deaths caused by malaria occur.
"This anti-malarial compound is not a money-making drug, mostly because it goes to treat diseases in poor countries," Martin said. "These drugs are very effective, but they're not worth the big pharmaceutical companies' time because there is no return on their investments."
According to the World Health Organization, malaria, a parasitic disease, kills at least one million people a year. About 40 per cent of the world's population is at risk, mostly in tropical and sub-tropical regions of the world. In Africa, a child dies of malaria every 30 seconds.
Artemisinin has been known to have a very high success rate because unlike other drugs, there has been no parasite resistance found against it. Martin is convinced that if successful, the commercialization of the artemisinin-based drug could save millions of lives.
Martin joined Concordia's Department of Biology in July, and has shifted gears to do research on metabolic engineering to solve environmental problems.
"We take bacteria and engineer them to produce novel, interesting, valuable things," explained Martin. "Now I engineer bacteria to develop alternative sources of energy, something called bioenergy."
He was hired as a Tier 2 Canada Research Chair in Microbial Genomics and Engineering. Tier 2 Chairs are emerging researchers who are pushing the boundaries in their fields, and the award provides $100,000 per year for five years.
Martin is also one of the recipients of this year's Petro-Canada Young Innovator Awards, which are designed to recognize and help support the work of outstanding young faculty researchers at Canadian universities and colleges.
Beginning in January, he will teach a graduate-level class in industrial biotechnology as part of the new genomic diploma program at Concordia.
Martin said that although it was a personal choice to leave Berkeley and his research behind, his years there were invaluable.
"I certainly learned a lot about transferring knowledge and technology from academic surroundings and applying it to a more industrial setting. It's something you have to experience for yourself; it can't be taught."