Frank Pons is also a valedictorian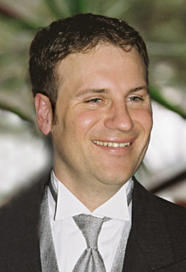 We interviewed Frank Pons by e-mail before he left San Diego for Montreal.
"I have been at the University of San Diego for 16 months now. It is exactly the type of university I was looking for, where teaching is valued and research is strongly supported. I am an assistant professor of marketing in the School of Business.
"USD is a small private university with a beautiful campus with great views of the ocean and the Tecolote Canyon. Also, class sizes of 35 or fewer students allow for a lot of interaction and interesting discussion. Although I sometime miss Concordia's classroom diversity, I have to admit that I am thrilled to teach at USD.
"I just received the faculty of the year award in the school of business from the students' association. I was very happy, and I think a part of this award comes from the teaching experience I got at Concordia.
"My dissertation dealt with crowds. The original idea was to show the variables in service situations (bars, bookstores, restaurants) that may influence crowds, whether they have a positive or a negative influence on consumers' satisfaction.
"The research was replicated in different countries (Mexico, Lebanon, Canada) to look at potential cross-cultural differences. It has been submitted to journals such as Psychology and Marketing, the Journal of Retailing and Journal of Consumer Research.
"I am also very involved in sports marketing research now, and try to apply this research in sports settings. I have several projects regarding the NHL (Canadiens, Senators, Maple Leafs), and I hope the lockout is resolved soon."
Frank said his time at Concordia was wonderful, largely because of his involvement in the varsity soccer team. He was a Stinger for four years, and won many awards for his athletic prowess and leadership.
"I could not have got through the PhD without my time with the Stingers. It helped me to study hard, to get organized and have this other life outside of school. Through sports, I met great people like Mehdi Mourali and Ammar Bedawieh, and had a balanced life.
"Athletics should never be seen as an obstacle to success. I miss that period of my life so much. I never thought I would one day say that I missed 6 a.m. practices under the snow, but I do miss them.
"The people in the Athletic Department were really great, starting with our coaches, Vlad Pavlicik and Ammar Awad, as well as all the staff at Loyola, who were very professional and so nice."
Frank has been married for nearly two years to Annick, "a real Montrealer." They are expecting a baby on April 5. "It may sound a kind of cliché, but we are so happy and excited."
Only Annick will be there to hear his valedictory. The rest of his family are in France, and will visit San Diego when the baby is born. However, Frank says they try to get back to Montreal at least twice a year. "We are truly attached to Montreal and plan to come back one day."