Young engineers sent to West Africa to work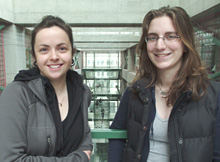 For the first time, the Concordia chapter of Engineers Without Borders is sending two students abroad for the summer as volunteers.
Diane Cousineau is a fourth-year environmental engineering student, and she will be spending the summer in Mali, on the fringe of the Sahara Desert.
She will work with a non-governmental organization called WaterAid to create a water and sanitation community outreach program for communities in the Sahel area, in the north of the country.
She recently told the student newspaper The Link that 30 per cent of the diseases caused by contaminated water could be eradicated just by getting people to understand how contamination happens.
"If clean water is provided and peole do not know about the transmission of E.coli, it will just get contaminated anyway." The actual teaching will be done by local citizens.
Andrea Spector is in her second year of a civil engineering program. She'll spend the summer in Senegal with an NGO called Enterprise Works.
She will work with local entrepreneurs to provide advice on the manufacturing of tools for agro-processing; specifically, cashew processing equipment, so that farmers can get better prices for their crops. She'll also work on an irrigation project that uses treadle pumps.
EWB is committed to promoting human development through access to technology in the developing world through awareness campaigns here and volunteer work overseas.
Since EWB began in 2000, over 80 young engineers have volunteered abroad in agriculture and food processing, water and sanitation, energy and natural resource management, and information and communication technology.
The idea is to develop the local technical sector to ensure that innovative, appropriate, and sustainable solutions to people's problems are locally generated and available. In their efforts to engage Canadians about sustainability and development, they have had a presence here at Concordia.
During Engineering Week in early March, veteran volunteer Ryan Sparkes told students in the engineering core course Impact of Technology on Society about his experiences in Uganda and Kenya.
When they get back from Africa in the fall, Diane and Andrea expect to carry on this practice by giving presentations about their experiences abroad.
The funding for their trip came in part from a $5,000 prize awarded to the Concordia chapter of EWB last year by Forces Avenir, a Quebec non-profit agency that encourages student initiative.