Changing city inspires art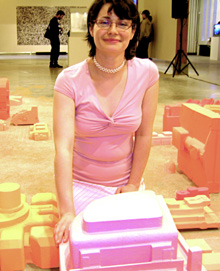 Laura St. Pierre, a second-year MFA student, says Concordia's location in the middle of downtown Montreal gives it unusually close contact with the city's life compared with universities like the University of British Columbia, whose campus is "very separate" from Vancouver, and divided from the city by old-growth forest. Her work, like that of Triptych (below) are part of Décalage, an end-of-year show by Masters of Fine Arts students, at the Parisian Laundry until April 24.
Apparatus/Construct/
Manipulation (right) is a first effort by the collective Triptych, film production students Justine Litynski, Terryll Loffler and Kim Simard. It's made up of three films side by side with a soundtrack fusing each perspective, and makes comical references to early instructional films with its forceful male narration. "I'm a big fan of cinema from the '60s and '70s, when directors like Godard and Bergman pushed the medium's reflexivity," Loffler said. Each member shot, hand-processed and edited his own piece separately, resulting in "a series of unexpected moments of significance" in its final form, Simard said.