Animated tale of Africa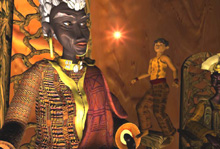 Right, a still from L'arbre aux esprits, the latest animated film by Cilia Sawadogo. Its world premiere was held at the National Film Board cinema on St. Denis St. on April 15.
Sawadogo is head of the animation unit at Concordia's Mel Hoppenheim School of Cinema, and is originally from Burkina Faso. She has directed three films with the National Film Board, including Le Joueur de Cora.
L'arbre aux esprits is meant for children as well as adults. It uses elements from African legends and the current interest in the environment to create a lively and inspiring adventure story.
In the savannah, two children, Kodou and Tano meet Ayoka, the spirit of an ancient tree threatened with destruction, and together, they find a way to save it.
The film was shown in a series called 21 Days of African and Creole Cinema, which is itself part of the big annual Vues d'Afrique.
It will also be shown at the Cinema Beaubien on April 19 at 9 p.m. and April 23 at 3 p.m.