Delirium Press is a community affair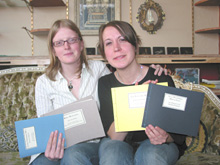 Two Creative Writing MA students are already deeply immersed in the publishing industry.
Poet Kate Hall established Delirium Press in 1999, when she lived in Vancouver. She began by publishing broadsheets featuring silk-screen images. While completing her master's at Concordia, she met writer Heather Jessup. After publishing Heather's work, Boxcar, Kate invited her to form an editorial team.
Last year, Delirium's focus changed to the chapbook, a short, collectible book that showcases a small collection of writing. Their writers, culled from Concordia University, include postgraduate students in the creative writing MA program, alumni and professors.
The chapbooks are modestly published, each signed by the author or illustrator in a limited edition print run of 50. The photocopied pages are hand-stitched and bound in simple, colourful covers.
The subject matter is eclectic. It ranges from the elegiac to the whimsical, from the alternating lucidity and near-incoherence of Mikhail Iossel to the luminous poetry of Elisabeth Marshall or Regan Taylor.
The students fund the publication of the books themselves, and rely on a strong network of friends and colleagues to ensure their publication. As Kate explains, "It's really a community creative project, a stitching party where friends come over. We put on a pot of soup and sew the books together."
Although the press does not receive university funding, they find intellectual sustenance through their involvement in the creative writing MA program. "The English Department is really supportive, in my experience," Kate said. "All the professors are fabulous and the tools for editing are taken directly from the workshops."
Heather agreed. "They care about your actual life, and it's incredible to be surrounded by a lot of people who are really excited by ideas."
Last week, the Press launched three publications: The Electric Man, a work of fiction by Johanna Skibsrud, with illustrations from Jeneve Parrish; a work of prose fiction entitled Bird-Watching by Zac Schnier, accompanied by the prints of Malcolm Sutton and Amber Yared; and Lines Crossed Out, Jason Camlot's collection of poetry, fiction and imagery, illustrated by the eminent Montreal artist Betty Goodwin.
Each book is an example of what can be achieved with a moderate budget and a lot of determination. "It's out of nothing,' Heather said with a smile. "It wouldn't be there if we didn't do it."
Delirium Press books are available
directly from the publishers, at delirium_press@yahoo.ca, or can be purchased from independent booksellers such as The Word, The Double Hook or at Café Esperanza.
The words need room to breathe...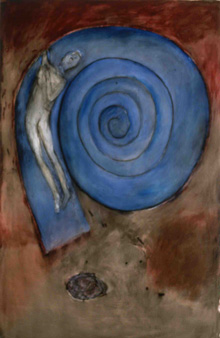 English Professor Jason Camlot's chapbook, published by Delirium Press this month, is called Lines Crossed Out, and features art by Betty Goodwin, a family friend. Here is an excerpt from the title piece, about her influence on his work:
It wasn't the kind of talk about poetry I had expected. It was rather technical talk about the situation of words. Over each of my poems she placed a piece of tracing paper and then, on the tracing paper, she crossed out all of the words and lines that she felt took away from her experience of my words. "The words need room to breathe," she said, and after her markings, sometimes only a few words per line remained.