In Brief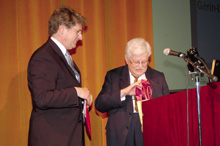 Paul Gérin-Lajoie, builder
If you look closely at the southeast corner of the Henry F. Hall Building, you will see the name of Paul Gérin-Lajoie, because, as the minister of education, he laid the cornerstone of the building in 1965.

A three-day symposium on his influence on Quebec was held March 16 to 18. Most of the sessions were at the Université du Québec à Montréal, but the opening took place at Concordia, and John Parisella, Special Communications Advisor to the President and an expert on Quebec politics, presented the special guest with the ceremonial trowel (above).

Gérin-Lajoie, who was first elected in 1960, was one of the architects of the Quiet Revolution, and the first education minister of Quebec.
Parisella said later, "His influence is still felt today in that he argued that Quebec could conduct international agreements in areas of provincial jurisdiction. He opened Quebec to international concerns and helped Quebec define a modern vision of
federalism."
Candidates for Dean of Fine Arts
Candidates on the shortlist for the next Dean of Fine Arts were presented to the Concordia community March 23, 29, 30 and 31 at lunchtime in the DeSève Cinema.

They were Kathryn Laurin, Professor of Music and past Dean, Faculty of Fine Arts (1999-2004), University of Regina; Lorne Falk, Dean of Faculty, School of the Museum of Fine Arts, Boston, Mass.; Daniel Doz, Professor of Architecture and Head, Division of Architecture and Art, Norwich University, Northfield, Vt.; and Catherine Wild, Professor and past Dean, Faculty of Foundation Studies (1996-2000 & 2002-2004), Ontario College of Art & Design.
Talks in JMSB by noted management experts
Christopher Worley, Professor of Business Strategy in the Graziadio School of Business and Management, Pepperdine University (Malibu, Ca.), will speak today at 2 p.m. in GM 403-02. His subject is "Built to Change: A Look at the Future of Organizations and OD."

On April 22, there will be a talk by Michael Beer, Professor Emeritus of Business Administration at the Harvard Business School, from 2 to 4 p.m. in GM 403-2. The title is "Overcoming the Silent Killers to High Commitment and Performance: Toward a Theory and Method of Organizational Development."

The talks are part of a series organized by Steven Appelbaum, Concordia University Research Chair in Organizational Development.
CSU election is a squeaker
The Evolution slate won the student election for the third year, but it was close. Evolution, led by Mohamed Shuriye, beat runner-up slate Conscious Concordia, led by Anastasia Voutou, by only 111 votes — 1,637 to 1,526.

The turnout was about 25 per cent lower than last year, despite a campaign by the Concordia alumni association to get the vote out.

Referenda

A resolution to have new downtown space for recreation and athletics run directly by the university was passed by a large margin, 2,223 to 457. The referendum is not binding on the university.
In other referenda, students voted to upgrade the student health plan, but not to increase the premiums.

A fee levy for the Sustainable Concordia Project was successful by more than two to one, but a fee levy for the Advocacy service run by the Concordia Student Union was not approved.

Board reps

The CSU representatives for 2005-06 to the university's Board of Governors will be Walter Chan and Tom Price.
Teaching award
Congratulations to Professor Venkat Ramachandran, of the Department of Electrical and Computer Engineering, who has been given the Honorary Teaching Excellence Award by the Engineering and Computer Science Council for Student Life.

The presentation was made on Saturday, March 12, at the students' annual banquet.
Symposium on discourse
A daylong symposium under the title Democratic Discourse in a Multicultural Society was held Sunday, April 3, in the Richard J. Renaud Science Complex on the Loyola Campus.

The keynote speaker was Howard Adelman, a professor of philosophy at York University, in Toronto. He was the founder of York's Centre for Refugee Studies and is associate editor of the Encyclopedia of Genocide and Crimes Against Humanity.

Sessions were held under the titles Dialogue on Campus, Media Responsibility, and Courage to Care.

The event was co-hosted by the Montreal Institute for Genocide and Human Rights Studies at Concordia and Canadian Friends of Tel Aviv University, and included a tour of the exhibit Visas for Life, which celebrated the role of diplomats in Europe to saving victims of the Nazis.
Course offered on late pope
Donald Boisvert reports that the Department of Religion will offer a course next year on John Paul II. Although the pope died on April 2, he said, "this had been planned some months back as part of our general course offerings for 2005/06. I will be teaching it in the winter 2006 term."

The course is listed as Religion 325/4 – Leaders, Rebels and Saints: Religious Personalities, Special Topic: Pope John Paul II. It is described this way:

"Historians have begun to assess the legacy of Pope John Paul II. As official leader of the world's largest Christian denomination, he has exerted a remarkable influence on contemporary Roman Catholicism.

"In addition, he has been a major player on the world scene, and many have turned to him as one of the more universal of spiritual leaders today.

"While grounded in the biographical facts of the Pope's life, this course will look critically at his writings and acts, attempting to discern the meaning of his role and influence in shaping not only Catholicism, but also some of the major world events of the recent past."
Spin your wheels at the Tour de l'Ile
For the third year, a Colours of Concordia Team will participate in the Tour de l'Île, a 48-km bicycle ride around Montreal. The tour will take place on Sunday, June 5.

The event celebrates cultural diversity. Last year, it brought together cyclists from 44 countries.

In the spirit of the event, Concordia's team will raise money for a new John Molson School of Business Scholarship for a student who has demonstrated a commitment in doing volunteer work that brings greater understanding between cultures.

The $20 entry fee includes a Colours of Concordia T-shirt with the names of participating countries on the back, the right to join a picnic on Mount Royal, and a contribution of $1 to the scholarship fund. Students, faculty and staff are encouraged to participate and to bring their families and friends along.

For further details on how to register, contact Mona Sénécal at 848-2424, ext. 2721 or drop by GM-201.