Irish women have major role in traditional music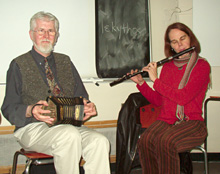 Irish singing and dancing are a lot older than Riverdance, but it has taken the feminism of the 20th century to give women their due.
Gearóid Ó hAllmhuráin, a professor of Irish Studies at the University of Missouri-St-Louis, gave an illustrated talk on March 30 that traced women in traditional music "from kitchen cuaird to global stage."
"There has been a radical change in the role of women in the last 30 years, when Ireland became part of the larger European society," Ó hAllmhuráin said. As a result, there is now a "tremendous sense of egalitarianism between male and female Irish musicians."
Ó hAllmhuráin, who is a fourth-generation concertina player in the style of County Clare, performed two lively tunes written by his grandmother, who was his first music teacher.
The concertina is like an accordion, and in Irish music, it became associated with the women who excelled at playing it. The kitchen, traditionally the women's domain, was where the family would gather and music would be made.
Ó hAllmhuráin also showed a documentary film, For the Love of the Tune, which presented Irish women musicians from various generations sharing their passion for music.
His lecture was organized by the Centre for Canadian Irish Studies at Concordia, which brings distinguished experts on Irish cultural life to Concordia.
Director Michael Kenneally says there are now nearly 40 students in Canadian Irish Studies programs.
Courses are increasing in number every year, and a total of $16,000 in scholarships is available to graduate and undergraduate students.
Kenneally will give the keynote lecture at the annual conference of the Canadian Associaition for Irish Studies, which is meeting this year in June at the National University of Ireland, in Maynooth, near Dublin.
Next fall, the O'Brien Visiting Scholar will be Sean Farrell, a historian from Northern Illinois University, who will teach two courses. The Centre and the English Department's Writers Read series will bring Irish playwright, novelist and poet Sebastian Barry to give master classes and a public reading.