Academic advisors share insights, experience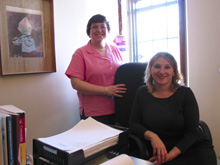 "You are the personalization of what has become a depersonalized university experience." With these words Provost Martin Singer opened the National Academic Advising Association (NACADA) Conference, which took place in Montreal March 23 to 25.
To 280 academic advisors from universities and colleges from across northeast Canada and U.S., Singer delivered an inspiring speech about how universities make students believe in themselves and become better, more informed citizens.
In a more grave tone, he also spoke about the changes the university has undergone in the last quarter of a century. "They have sort of lost their way, in my opinion," he said. From an intimate, small-knit community, the university has become a corporatized environment and the students critical consumers. The challenge now is how to personalize education.
Advising is one of the ways. "The principle role of advising is to get students to believe in the power within," Singer said. Many of the advisors in the room nodded in agreement.
The conference offered 48 sessions on topics ranging from retention and academic success to advising undecided, Native and LGBT students.
Shoshana Kalfon, an academic counsellor at Concordia, said exchanging of knowledge, ideas and experience "makes you feel that you are not alone."
Kalfon and her colleague Maria Ponte co-chaired the conference. During their own presentation, they spoke about a recent reorganization in Concordia's Faculty of Arts and Science.
In the spring of 2003, Singer, then Dean of the Faculty, created a Student Academic Services Unit that merged academic advisors and admission counsellors.
From two people doing advising and six people doing admissions for 37 departments, now eight people are doing both. Before the merger, both Kalfon and Ponte were academic advisors.
"We knew nothing about admissions, and we had to learn the rules and regulations of the university," Ponte said.
The mandate of the new office is to guide students from admission to graduation. "The fact that they have a name is really important," Maria Ponte said.
Academic counsellors receive general requests related to undergraduate admissions and readmissions, grade changes, credit transfers and withdrawals. More than 3,000 students sought their help last year.
Still more students are expected to approach them this year. Right now, materials are being prepared: the unit's website and a handbook with information about admission procedures, academic definitions, the Student Information Management System and more.
Advising starts with listening. "You have to be approachable, a people person, and students need to feel like they can tell you something," Kalfon said. Another crucial quality is knowledge of the university and student services.
Ponte and Kalfon continue to counsel students one-on-one, including giving advice over the phone or via e-mail. They love to tell stories about students they have helped successfully.
"Some of them send notes after graduation, and this is the most satisfying part of the job, to know that you have made a difference in somebody's life," Kalfon said.
Among the plaques on the wall in her office is one from NACADA honouring Kalfon with the academic advising excellence award for Canada for 2004. This year's prize recipient is also from Concordia: Sheri Kuit, undergraduate programs assistant in the Sociology and Anthropology Department.
Maria Ponte would like to see an introductory course for students who are about to enter the university. "Students are unprepared; they don't know what to expect from university life," she said.
The course would deal with such important issues as writing academic papers, doing research and plagiarism. Kalfon said, "It would give students the opportunity to meet their peers, to create small communities and to connect."