Iain Cook: Punk artist is a mentor to a new generation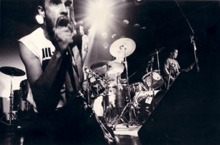 Spin magazine, the New York Times and the International Herald Tribune have all hailed English Montreal as the next epicenter of popular music. Iain Cook, part-time professor in Communication Studies at Concordia, has taught many of the musicians at the heart of this pop revolution.
Cook's interest in sound grew out of his own musical experiences in the "very politically aware and motivated" 1980s punk movement. His first experience of Concordia was as a musician recording a demo in the university's radio station studios.
Cook liked what he saw at Concordia. He applied and was accepted into the Communications Studies program. Cultural theorist, musician and composer Paul Théberge was setting up a three-year sound program focused not just on the technology of sound reproduction, but on sound as cultural practice — "what it means to record, and record in a certain place."
Inspired by his experiences in the undergraduate program, Cook continued to graduate-level studies and began teaching in the sound production stream. He realized that, like punk, audio production is inherently political.
"It's not like film where you can bracket stuff off. With sound you have to integrate yourself into that whole environment. If there's a police car going by when you interview someone, it means something. It's a reflection of that physical place."
His teaching reflects this political dimension. "What we teach is a lot more than techniques of audio production. It's about listening, moving from hearing sounds to listening and thinking about practice.
"We try and have students take a step back and think about the consequences of what it actually means to make a recording. Like handwriting tells us about a person, a soundscape is the signature of a place."
This big-picture approach to understanding sound has inspired many of Cook's former students to develop careers in the music and sound production industries.
Regine Chassagne is a former student to whom Cook stressed the importance of finding unique locations for sound production projects. She took her band The Arcade Fire to a barn on an island off the coast of Maine to record their first album.
Cook was pleased with the choice, and equally pleased when another former Communication Studies student, Howard Bilerman, recorded their second album.
Dave Bryant, also a former Cook student and founding member of GodSpeed You! Black Emperor, included clips from his final year sound project on the band's first album. "When I heard that it just made my day," Cook says.
The project was a soundscape of Coney Island residents, including "portraits of these guys in their fifties and sixties with amazing stories to tell. I urged Dave to take the material and somehow have it reach a larger audience."
Other Cook students include Corneille, now a major pop star in France, who did "an amazing aural presentation" on American soul singer D'Angelo; DJ Simahlack, a well-known hip hop DJ; and Phillipa Klein, founding partner of the North American office of the Ninja Tune record label.
Cook enjoys "witnessing the beginnings of an incubation. It takes a while for them to find where they're heading and for things to fit into place."
With such an impressive roster of ex-students involved in the music and sound production industries, Cook must be doing something right.