Art sleuths see results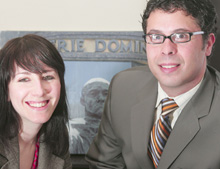 Concordia has long been known for art — both making it and collecting it — but that reputation just took a quantum leap. When Clarence Epstein saw the lavish press coverage his work on Nazi-confiscated art got last month in Canadian newspapers, he was justifiably pleased.
As Director of Special Projects in the office of President Frederick Lowy, Epstein has been working for seven years on cultural property projects, including art collections bequeathed to the university.
He was hired as he was finishing his PhD in Edinburgh, and returned to Montreal to work on the Diniacopoulos collection. It comprised about 2,000 mainly ancient Greek and Egyptian artifacts, the proceeds of which were left to the university by the parents of the late Professor Denis Diniacopoulos. Under Epstein's management, material in the collection was dispersed abroad, and Mediterranean works are currently on loan to the Montreal Museum of Fine Arts.
At the request of another set of executors, he assumed a role in the bequest of Max Stern. The well-known Montreal art dealer had died in 1987 and left the bulk of his estate to Concordia, McGill and Hebrew University of Jerusalem. Prior to his involvement, little progress had been made in the task of sifting through the vast collection, allocating it piece by piece to the beneficiaries, and realizing its financial value.
"The executors of the estate were taking measured steps, but there were 5,000 works, most from the Dominion Gallery," Epstein said in an interview. "After working on the Diniacopoulos collection, the scale was one I could deftly handle."
He had the assistance of Sandra Margolian, who was following up her fine arts degree with a Graduate Diploma in Administration and was recommended to him by Edith Katz, in the John Molson School of Business.
"The first step was assessing what we had. Sandra and I conducted a complete inventory." Then they had to figure out whether to sell it off quickly or bide their time.
When art is treated as a commodity, Epstein explained, it changes value. A large volume of art can be disposed of quickly at lower prices, but spun out over several years, it could be more lucrative. The transactions became complex and fascinating.
"We were working simultaneously in London, Toronto and New York with five auction house teams, with private dealers and on the Internet." Fortunately, the Canadian art scene was burgeoning in 2000. "It's all about timing and advertising," Epstein said.
About six months ago, the issue of art works that were sold by force or confiscated from the Stern collection publicly emerged from the shadows. Stern was the son of a well-known Dusseldorf art dealer, and had just got a doctorate in art history when he inherited his father's gallery in 1935. By 1937, unbearable pressure from the Nazis forced him to flee first to Paris, then to Britain, where he was interned, and then to Canada, where he was interned again.
Eventually he acquired the Dominion Gallery on Sherbrooke St. and became the mentor to a generation of Canadian artists, but he was never able to recover the art he had lost in Germany in the 1930s. A large portion of it had been consigned to the Lempertz Auction House in Cologne and sold at bargain-basement prices.
Epstein hired an archivist at the National Gallery of Canada to trace the last known location of every work mentioned in letters and memos left by Stern. "It takes hard research, and provenance is everything," he said. Art gains value from where it has been, and who has previously owned it.
Key to this detective work is the Art Loss Register in London, which Epstein called "a kind of dragnet for the entire art world. You post it there, and they scan all activities in the art trade to find any overlap. They normally charge a fee, but they offer their services free for art connected to the Holocaust." He is also working with the New York State Holocaust Claims Processing Office and international auction houses.
So far, the art sleuths have identified 250 works from Stern's lost collection, of which they have located five. "They are by Brueghel, Bosch and others — Dutch and Flemish Old Masters — and 19th and early-20th-century German artists." Accordingly, Epstein feels the missing pieces are likely to be discovered in Germany or countries near Germany.
The beneficiary universities are not rushing to litigation to recover the art, but are relying on those who have these works, and who may not even have known about their Nazi connection, to do the right thing.
Coincidentally, the executors of another collection confiscated by the Nazis have just identified several confiscated works in New York and one in the collection of the Montreal Museum of Fine Art.
This was reported the week that Epstein and President Frederick Lowy were in Florida to announce the Stern provenance projects at the Norton Museum of Art in West Palm Beach, and accounts for heightened press interest, including a laudatory front page article in the Palm Beach Daily News.
Epstein will go to Europe at the end of April to meet with auction houses and members of the art trade.
"The ultimate value of this painstaking and shrewdly managed work to Concordia is both tangible and intangible," Epstein said. "The moral and financial imperatives go hand in hand."