Shuffle raises $53,000 plus for needy students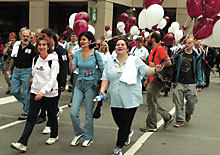 There was a great turnout for the 14th annual Shuffle walkathon between campuses on Sept. 19, and at least $53,000 was raised towards the Shuffle Scholarship Fund.
More faculty members than usual took on the 6.5-km challenge, and as always, the support staff turned out in style to run, walk, skate, cycle, walk the dog or push the stroller.
Professor Rama Bhat couldn't join them, but so as not to let down his sponsors, he did the Shuffle on his own the next day. Board chair Alain Benedetti won a laptop in the draw for prizes following the walk, and plans to donate it to a needy student.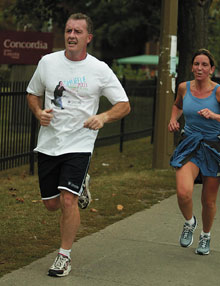 Thanks to everyone, walkers, commercial sponsors, and media supporters, including Mix 96's Ken and Cat, who launched the walk downtown, and Comedy Nest funnyman Ernie Butler, who emceed the post-Shuffle party at Loyola.
Results of the Chartwell Challenge, a competition for teams of walkers, will be announced on Shoptalk and on the Shuffle web site.