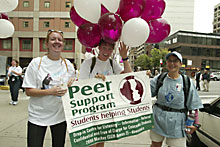 Peer Support Program pairs students with other students
In a university community of more than 35,000 students, people are not always sure where to turn when they have a problem.
"Places where you'll just have someone listen to you are very rare these days," said Reverend Ellie Hummel, co-ordinator of the Peer Support Program at Concordia. "Sometimes students need just to have someone listen to them."
The Peer Support Program is a free, confidential service designed to give students a safe place to go when they are stressed out or have questions about university services.
The 23 students who volunteer with the program are trained to listen to other students and help them find the answers they are looking for. All peers have received training in listening techniques, interpersonal skills and cultural sensitivity and are well versed in university resources.
"We are not here to counsel, we're here to listen. We're here as a sounding board, as a referral service," explained Becky Stumpf, one of four peer supervisors and a human relations student at Concordia.
Many students don't want general advice about how to lead their lives, they want someone to help them figure out what to do in a specific situation, according to Lillian Jean, a 43-year-old mother of two teenagers. "We help them come up with the options to take control of their situation."
Hummel stressed that peers are not professional psychologists or counsellors. "The program is based on the belief that we have the answers within ourselves."
Stress brought on by school, employment, relationships, finances and housing affects 75 per cent of the program's clients. Peers are by no means exempt from stress themselves, and draw upon their own experiences to help other students. As Jean said, "Most of us have been through what the students are going through."
The program works closely with other university services, and peers can make immediate appointments with the appropriate service if the situation calls for it.
Though the peers are all volunteers, they must go through an application and interview process. Hummel looks for people who are mature, open to diversity, and have a good sense of self and the instincts to help people.
Lee Londei and Kristina Tsovikian are two of the new crop of peers. They are both volunteering to find out whether counselling is a field they'd like to work in after university.
"The experience is really valuable," said Tsovikian, a fourth-year human relations student.
Londei, who is completing her psychology degree this year, said the program is a warm and welcoming place and stressed it's "a first step in any direction" for students looking to work out their problems.
Each Thursday, the Peer Support Program and Multi-Faith Chaplaincy host Mother Hubbard's Cupboard, serving home-cooked vegan meals to about 50 students and family members. They are encouraged to make a small contribution towards their meal.
"It's a great place to get a hot meal," Stumpf said.
Hummel concluded, "Some people think they should only come in if they have a serious problem, but no issue is too small or too big."
The Peer Support Program operates from 11 a.m. to 5 p.m. Monday to Friday on the Sir George Williams Campus, 2090 Mackay St., Room 03, and from 11 a.m. to 5p.m. Thursdays on the Loyola Campus, AD 130, 848-2424 ext. 2859.