Helping others helps teens: Coup de pouce jeunesse
Centraide Concordia underway
Members of this year's Centraide fundraising committee bravely marched in the Montreal-area launch on Sept. 25, accompanied by members of the Stingers men's hockey team.
This year's committee comprises co-chairs Kathleen Perry and Miriam Posner; Jorge Sanchez, Kristina Ramsay, Nancy Curran, Barbara Woodside, Perry Calce, Francine Kolodychuk, Sandra Spina, Pierrette Lucas, Reeta Tremblay and Isabelle Bouvier.
Last year, Concordians raised $122,000 for Centraide, and our participation rate was 19 per cent, which leaves lots of room for improvement. The goal for this year is $140,000. The Centraide goal for Greater Montreal this year is $42.5 million.
You can expect to get a letter soon by internal mail explaining the easiest way to make your donation — by payroll deduction. There will also be some fun events, including the ever-popular bake sales, a teddy bear auction and toonie lines.
If you'd like to hold an event in your area or join the Centraide committee, the more, the merrier. Just contact the co-chairs.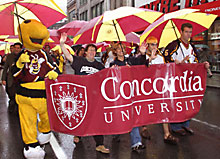 Coup de pouce jeunesse began in 1982 when some Montreal North residents decided to pair adolescents with elderly people in the community during the summer, and give both parties something to do. Over the years, it has evolved into a charitable organization that helps close to 300 elderly and disabled people and children each year.
Director Johanne Lacoste has been there for 19 years. "I love my work, because I'm convinced that when young people have the opportunity to share their free time, they discover that they have multiple talents, and that they can support and help the people around them."
With his tousled hair and oversized hooded sweatshirt, Jason Alexander Bond looks like a typical 16-year-old. He has been volunteering with Coup de pouce jeunesse for three years. "I like helping other people," he said, his bright blue eyes shining. "I have a big heart."
Bond is one of 30 teens who visit seniors' residences, after-school programs and institutions for people with disabilities. The teens lead activities like arts and crafts, games and storytelling. They also have their own outings, sports and social events, and have access to a drug prevention program and discussion groups.
Last year, Coup de pouce jeunesse received more than $109,000 from Centraide, almost half of its annual funding. Without it, Lacoste says the organization would not be able to accept as many young people. "Centraide assures us a certain financial base," she said. The organization uses the funds to purchase materials and pay the educators who co-ordinate the activities and support the teens.
Lyne Brideau is a recent university graduate working at Coup de pouce jeunesse on a grant from the Quebec government. She believes that the organization is a great help to the teens.
"They feel like they're accepted here. They're part of a group where they get to know other kids and make friends from different schools," she said with a shy smile as she greeted a young volunteer in French.
For Bond, being a part of a group isn't the only thing that makes the volunteer experience enjoyable and refreshing. "It doesn't matter what you look like. To these people they just like you because you come and see them," he explained.