Of Note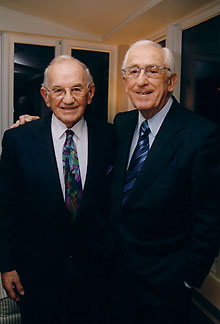 Generous donors name bursaries for friends
Harriet and Abe Gold have been extremely generous to Concordia graduate students through a series of endowments to finance entrance bursaries. During Concordia's last campaign, the Campaign for a New Millennium, their investment of $1 million in graduate studies through the Harriet & Abe Gold Entrance Bursary Endowment resulted in 10 new graduate fellowships of $5,000 each per year, which will be given in perpetuity.
Two years ago, the couple established an endowed graduate scholarship honoring the memory of a 1954 Loyola College alumnus, through the Bruno J. Pateras Graduate Award in Administration.
This year, they have created the Gold Scholarship Bank. Eleven new endowments have been created to fund graduate scholarships, each valued at $2,500, and each named after personal friends. The awards now number 22 and put the Golds' contributions to graduate studies on a par with major corporations such as Power Corporation of Canada.
Two of the honourees are particularly well known: George Springate, BA 65 SGW, and P. Andre Gervais, BA 54 Loyola. The graduate scholarships will be inducted on Dec. 2 at the Graduate Awards Breakfast.
- Dolly Shinhat-Ross, Director of Donor Relations
Senate Notes
A regular meeting, held November 7, 2003.
Eligibility: As the result of a question at the September meeting, Secretary of Senate Danielle Tessier was asked to enquire on the principle of a student being enrolled in two institutions which could lead to that student sitting on the governing bodies of two distinct institutions. Ms. Tessier submitted a document, which explained that while U de M has an academic rule stipulating that a student cannot be registered at the same time in more than one same-level program, Concordia and McGill do not specifically prohibit it but do not encourage it. Eligibility rules for Concordia's Senate do not address the issue of dual membership on governing bodies, although the Board of Governors does.
Name change: The Department of Geography has been changed to the Department of Geography, Planning and Environment to better reflect its character. Approved. Rector's remarks: Dr. Lowy reported on successful trips to Paris and New York (see CTR, Nov. 7, page 5). However, he gave Senate notice that the new Quebec government has asked each ministry to reduce its budget, including that of grants to higher education. As the university has hired new professors on the basis of expectations, this could present a financial challenge.
Graduate student enrolment: Provost Jack Lightstone reported that SCAPP, Senate's committee on academic planning and priorities, has so far met twice this term. Emphasis is currently on increasing the proportion of graduate to undergraduate enrolment, a goal in which the Faculty of Engineering and Computer Science is leading the way. Dean Nabil Esmail added that Concordia's engineering school now has the highest proportion of graduate students in the country. Approximately 40 per cent of ENCS students are graduate students, and the faculty has more than 50 per cent of the graduate students at Concordia.
Language proficiency: Lightstone said that the academic programs committee has struck an ad hoc subcommittee to examine the challenges of English competency among students. The recent overhaul of regulations concerning the University Writing Test was part of this challenge.
The next meeting is scheduled for Nov. 28.
Board search for Provost continues
At the Nov. 19 Board of Governor's meeting, Rector Frederick Lowy reported that the field of 32 applicants had been trimmed down to six, and interviews were slated for the days to come. The goal is to have a shortlist and open meetings with short-listed candidates in December or early in 2004.
The profile of the ideal candidate was modified to include some who has a PhD (or equivalent advanced degree) and who is sensitive to the issues of intellectual property and scholarly communication.
There was discussion at the meeting about the term of having "suitable" fluency in French as it related to the Provost position.
The Rector explained that asking for fluency in French might restrict excellent candidates from stepping forward. He suggested the need to assess the overall suitability of candidates to this demanding job while understanding the importance of candidates having the capacity and desire to become more fluent in French. He concluded by saying that the six candidates selected so far all said they have the appropriate French-language skills.
During the discussion, several Board members emphasized the particular need of the Provost to function well in French at CREPUQ and other Quebec academic and government bodies. They also stressed the need to assure a strong commitment on the part of the candidates to Concordia's tradition of tolerance and diversity. The Rector promised to take these concerns back to the search committee.
Lowy receives Gandhi, King, Ikeda Award
Rector Frederick Lowy received a Gandhi, King, Ikeda Award from the Soka Gakkai Institute of Canada on Nov. 10.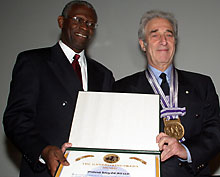 Lowy received the award for advancing peace, human rights and education. He was praised as a psychiatrist, bioethicist and academic who has made Concordia stronger after turbulent times.
He was one of two honorees at the ceremony, along with human rights activist Dr. Monique Mujawamariya, who worked in Rwanda during the genocide of the early 1990s. She started Fonds Africa in 1998 and lives in Quebec.
The award, named after Mahatma Gandhi, Martin Luther King Jr., and Daisaku Ikeda, kicked off an exhibition of Gandhi, King, Ikeda: A Legacy of Peace, being held in the Webster Library atrium until Nov. 22.
The Soka Gakkai Institute, a lay Buddhist organization headed by Daisaku Ikeda, works to foster education about peaceful solutions to conflicts.
Dr. Lawrence Carter, dean of the Martin Luther King Jr. Chapel at Morehouse College in Atlanta, presided over the ceremony in the DeSève Cinema.
At the awards ceremony, Concordia's library also received volumes of King's, Gandhi's and Ikeda's written works.
Chemistry grad conference held at Richard J. Renaud Science Complex
For the first time in its six-year history, the Chemistry and Biochemistry Graduate Research Conference was held in the new Richard J. Renaud Science Complex on the Loyola Campus.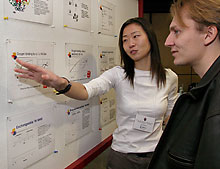 The CBGRC showcases graduate students' work from universities across Quebec, Ontario, the Maritimes and the northeastern United States. It was designed to give students an opportunity to present their research in a formal setting, and to give them a chance to network with academics and representatives of industry.
The conference has a competitive format, and awards are presented for both oral and poster presentations in the categories of analytical, inorganic, physical, organic and molecular chemistry and biochemistry.
The symposium was open to the public, and visitors were encouraged to attend. Despite a power failure at Loyola on Friday night that scrubbed a wine and cheese reception, organizer Sean Hughes said, "This was our biggest conference ever, with 117 participants, 48 volunteer judges, three keynote speakers and 12 representatives from our sponsors.
"The sponsors came from coast to coast, and we had quite a few participants from the U.S., including Princeton. It was a great success and we are thankful for being able to hold it at the Richard J. Renaud Science Complex."
Here are the winners:
Best Biochemistry Oral Presentation (Merck-Frosst and the CSBMCB): Nicolas Doucet, Université de Montréal
Best Chemistry Oral Presentation (CIC/CSC) - Olivier Sigouin, Université de Montréal
Meilleure Présentation Française - (Government of Quebec - RST) – Michel Boutin, Université de Montréal/IRSST
Molecular Biology Poster (Boehringer-Ingelheim and CSC) - Mamady Hapsatou, Carleton University
Organic Chemistry Poster (VWR International) - Qingyan Hu, University of Toronto
Analytical Chemistry Poster (AstraZeneca) - Marie-Eve Beaudoin, Université de Montréal
Inorganic Chemistry Poster (MAT Labs, Perkin Elmer) - Tamer El Bokl, University of Ottawa, and Rafik Naccache, Concordia University
Physical Chemistry Poster (ESDC Inc.) - Po Shan Ng, University of Waterloo
Environmental Chemistry Poster (CSC) - Yingwu Liu, Concordia University
Biochemistry Poster (MDS Pharma) - Jordan Volpato, Université de Montréal
CSU by-elections, referendum set for Nov. 25 - 27
By-elections will be held by the Concordia Students Union Nov. 25-27 to fill four empty seats on the CSU Council of Representatives: two in Arts and Science, one in Fine Arts, and one for independent students.
In addition, four referendum questions will be put to the CSU membership. One reads as follows:
"We the students of Concordia University are concerned with the high level of security the university administration has implemented, including face recognition cameras, increased patrols, stricter policies, etc. As such, we demand that a committee be formed composed of an equal representation of one-third students, one-third faculty, and one-third staff to oversee and control the operations of the Concordia Department of Security."
Of the other three referendum items, two introduce new fees of six cents per credit each. One is to finance the French-language newspaper Concordia Français, and the other is for the International/Ethnic Associations Council, which supports 15 ethnic associations on campus representing more than 6,000 students.
Another item seeks to transfer the current levy of nine cents per credit from the Concordia Student Union to the independent Concordia Student Broadcasting Corporation, which operates CJLO radio and CUTV (Concordia University Television).
For a list of by-election candidates, and the precise wording of all questions,please consult http://news.concordia.ca and follow the links.
Women engineers look to each other for inspiration
Women in Engineering was established in 1991 to encourage women to enter the field. Each year, speakers and workshops provide inspiration and insight to women engineering students from across Canada.
This year's conference was held Nov. 14 and 15 in Kingston, Ont., and Concordia's Engineering and Computer Science Association (ECA) sent seven students.
They were Shahnaj A. Shimmy, ECA president, Véronique Tokateloff, VP external, Nazanin Fahima, VP finance, Diane Derôme, president of the Canadian Society for Industrial Engineers (CSIE), Liselle Rego, president of the Quebec Engineering Games, Juliana Jasinski, president of the Canadian Society for Mechanical Engineering (CSME) and Monica Shah, editor of ECA This Week.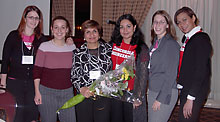 Shahnaj Shimmy said she was inspired by the experience, particularly by a session on "where do we go from here?" Only 20 per cent of current engineering students in Canada are women, she said.
"We were reminded that young women are discouraged by our high school teachers, parents and society from choosing this profession," she said. "There were statistics that showed that 30 per cent of women who are studying engineering have fathers who are engineers."
The young women came up with some tips for their fellow students, such as activities that prevent boredom and build confidence. The conference helped them see the need to prioritize issues, set short-term goals, find mentors and "brainstorm until our brains hurt."
Shimmy said, "Concordia's delegates stood out at this conference because we have equal representation on our student governing body between males and females. We were proud to stand out and make our faculty proud."
What's your pleasure? Expert Jordan Le Bel wants to know
Marketing professor Jordan Le Bel, who is probably one of the most-often–interviewed scholars at the university, is conducting a survey, and he invites you to participate.
Le Bel has obtained an FCAR new researchers' grant to carry out a study of the role pleasure plays in the choices we make. As the first step towards building a scale to measure pleasurable experiences, he has put together an intriguing survey at http://pleasure.concordia.ca. There is also a version in French at http://plaisir.concordia.ca.
"The survey is intended to collect personal recollections and stories of pleasurable experiences," Le Bel said by e-mail.
"The point is to assess the differences and similarities between different types of pleasures. I am hoping to generate as much traffic as possible toward the website such that I can have a cross-section of respondents from all walks of life. Le Bel wants to examine differences between the responses of males and females. If he gets enough respondents from different cultures, he wants to compare those differences. However, his motives go beyond these simple parameters.
"For years it has been assumed that individuals, i.e., consumers, were rational and logical, and would seek out the maximum information before making a decision. But we are seeing more and more that pleasure often dictates choice. That's what I want to document: the experience of pleasure with all its richness and complexity."
Woods investment grads celebrate
More than 80 people gathered at the Club Sportif MAA on Oct. 23 to honour the second class of graduates from the Kenneth Woods Portfolio Management Program.
The program was established thanks to a significant donation from Ken Woods (MBA 1975) that allows top finance students to manage a live portfolio.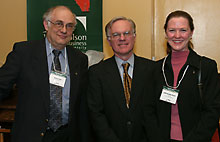 Many industry experts attended, including representatives from Bimcor, CDP Capital, CN Investments, Formula Growth, RBC Global Services, RBC Dominion Securities, Scotia Capital, Goodman & Company, Jarislowsky Fraser and Norshield Financial.
The 2003 graduates, called Calvin Potter Fellows in honour of a former professor, are Shawn Anderson, Alfred Davis, Charles Haggar, Lawrence Lai, Geneviève Lincourt, Shivali Misra and Luke Pelosi.
Professor Abraham Brodt, who oversees the program, said that the live portfolio is doing quite well against a benchmark established for the purposes of evaluation. He added that the program benefits enormously from an expert client committee made up of investment professionals.
Lose your hair to share for Centraide
Homeless teddy bears generated fun and generosity on Oct. 30, when the Teddy Bear Adoption Agency was held in the lobby of the GM building over the lunch hour.
Once adopted, many of the bears were donated to the Montreal Children's Hospital for Christmas giving. The money from the sale, of course, went to Centraide. This popular event was organized by the business students' organization CASA CARES and employee Mona Senecal.
Here are some more events to look for:
At Loyola, look for the Connect the Buildings Looney/Tooney Line on the morning of Thursday, Nov. 27. Add your coins to the line as it snakes through the campus, starting at the ground level of the AD Building toward the Richard J. Renaud Science Complex.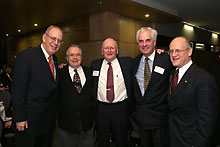 Meanwhile, on the SGW campus, you can get a shave. On Wednesday, Nov. 26, from 11 to 2:30, Lose the Hair to Share will feature four hairdressers trimming hair for a donation in the LB atrium.
Why not get your co-workers to pledge to watch you get your beard, moustache or all the hair on your head shaved off? The forms are available at Information Services at SGW and at the Security Desk at Loyola.
Please don't forget - even if you are renewing your commitment to Centraide from last year, you must still fill out a pledge card and send it to Human Resources, Room: S-ER-500. You can use the handy self-addressed, confidential envelope already provided in the internal mailing. If you need another pledge form contact des O'Neill, Mail Services, at ext. 3455.
The sooner you send in your pledge, the more chances you'll have for the weekly draw, made every Friday afternoon . There are 15 fabulous prizes. For more information on any of these events, please call Nancy Curran (ext. 4950), Caroline Danis (2175) or Dina Tavares (4834).