Artist Raymonde April wins Prix Borduas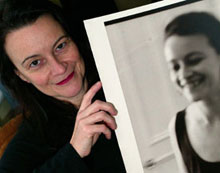 Once again, a Concordia professor has been awarded Quebec's highest artistic honour. On Tuesday, studio arts professor Raymonde April received the Prix Paul-Émile-Borduas in Quebec City.
April is in distinguished company. The award, which has existed since 1977, has previously been bestowed upon such luminaries as Jean-Paul Riopelle and Alfred Pellan. Former Concordia recipients include Jean McEwen in 1998, Irene Whittome in 1997, and Françoise Sullivan in 1987.
April, who has been with the university since 1985, was nominated for the award by the former chair of the studio arts department, Penny Cousineau-Levine.
"I think Raymonde's receiving the Prix Borduas serves to illustrate what many of us have known for years," said Cousineau-Levine. "That the Studio Arts Department is the best-kept secret of the university, with extremely accomplished faculty members who are among the most respected artists in the country."
The Prix Borduas honours an artist for the overall calibre of her body of work in the field of visual arts, graphic arts, architecture or design.
April has worked primarily with black and white photography, although she has recently made forays into film, and this marks the first time the award has been given to someone whose primary medium is photography, a milestone in itself. "It's a recognition of photography as an art language," she said.
It's also a recognition of April's considerable impact on photography in Quebec.
"When I started working in the '70s, all the photography in Quebec was social documentary,," she said. However, coming from a different background, she approached the medium in an entirely different manner.
"I started as a visual artist, and started working with photography as a visual arts medium," she explained. In doing so, she began to build fragmented narratives and streams of images, eventually developing both a style and a school of thought dealing with the intimate, the charm of everyday objects and a celebratory sense of community.
Although she was educated in Rivière-de-Loup and at Université Laval, the basis for April's craft can be traced back to her parents, her seamstress mother and storytelling father.
"They showed me how you can take material from anything and turn it into something magical," she said. Her father also showed her the importance of a good story. Since the start of her career, April has taken a narrative approach to photography, an almost counter-revolutionary stand when she began in the '70s, the era of minimalism.
Since then, she has influenced many and her works have been collected by galleries like the Montreal Museum of Fine Arts, the Montreal Museum of Contemporary Art, the Leonard and Bina Ellen Art Gallery and the Bibliothèque nationale de France in Paris.
Now on sabbatical leave, April is exploring ways to bring the still image into real time, such as in her recent experimental film, Tout embrasser, which featured a stack of photographs, the top print being turned over every three seconds. During her break, April will also explore new media, an interest partly driven by the requirement to teach these techniques in her classes, and elaborating on her ideas of landscape as narrative.
For April, these are all exciting new directions to test, directions her recent award helps vindicate. "[The Prix Borduas] just happened at a time when I'm exploring," she said. "It makes me very proud. It's a recognition and an encouragement, and whatever I do now, it allows me to be more free in what I do."