Multimedia tools for success: Design students worked with street kids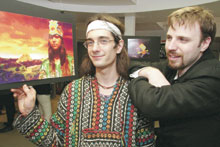 A pilot project that brings art students together with street kids has attracted the attention of the media and even the head of state.
P.K. Langshaw, chair of Design Art and Digital Image/Sound & the Fine Arts, said Governor-General Adrienne Clarkson paid a quick visit to her studio recently to look the work being done there, and liked what she saw.
A vernissage was held at a gallery on Ontario St. E. on April 27 of work that was done this term. Over the term, Concordia design students passed on some of their own skills in digital art. Judging from the enthusiasm at the vernissage, the Dans la rue students enjoyed exploring their artistic ability, learning a new way to express themselves, and acquiring more self-confidence.
In practical terms, they also received credit from the Quebec Ministry of Education towards their high school diploma, thanks to the involvement of the CSDM (Commission scolaire de Montréal). The two three-credit courses in the pilot project will now be opened to all interested and appropriately skilled students in the Faculty of Fine Arts.
The Dans la rue multimedia project began in 2001, when part-time professor Israel Dupuis approached the organization with the idea of matching his third-year design students with students from the in-house school program run by Dans la rue. The idea was to show that artists can contribute to their communities and see a real impact emerge from their efforts.
Dans la rue was founded in 1988 by Rev. Emmett Johns to offer outreach programs to homeless youth in Montreal. For more information about Dans la rue, visit their Web site at www.danslarue.com.