Coming-of-age novel took 12 years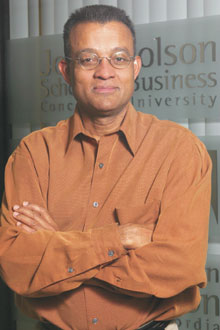 Jean-Marie Bourjolly, a professor in the Department of Decision Sciences and Management Information Systems, has written a charming novel called Dernier Appel.
As the book opens, 19-year-old Didier is on the eve of leaving his unnamed homeland for France via New York. Memories come flooding back, from funny scenes of his school days and raucous times at the neighborhood cinema to his sexual coming of age and his first love. As the novel draws to a close, Didier is on the plane, anxiously waiting for takeoff.
Published by CIDIHCA, the Centre international de documentation et d'information haïtienne, caribéenne et afro-canadienne, Dernier Appel is based on the author's memories of growing up in Haiti. Bourjolly remembers exactly when the project started: June 25, 1992.
"I was depressed. I didn't start out to write a novel — it was the urge to write this for myself. I wrote through the night."
Four years later, he said, he realized he had a novel on his hands — in fact, two novels. His manuscript was 500 pages long, and he knew no publisher would be interested in a book that large, but the story naturally divided in two. As a result, he has a sequel waiting for publication.
Did writing the novel help his state of mind? he is asked. "Very much. There were emotions I had kept at bay, and I was at a time of my life to sort them out."
While he is a mathematician, not an experienced writer of fiction, Bourjolly found that writing a novel was "not very different from writing an academic article.
"It's not haphazard. You want the reader to be engaged, entertained. There's a way of building up slowly to the effect you want."
He wasn't sure at first if he was capable of a full-fledged novel, so the chapters were conceived as short stories. "Each chapter is almost self-sufficient, linked by the central character, but based on a single action with its own resolution."
Dernier Appel is in some ways a love-letter to Haiti, with its folksiness, its colour, and its sudden, dismaying violence. When Bourjolly is asked how he feels about the country, he shakes his head ruefully, unable to summarize his complex reactions.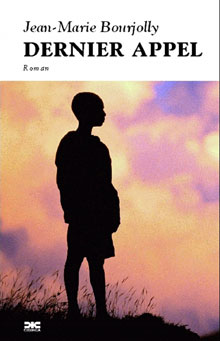 Like Didier, he was keen to leave. He was raised by a mother who must have been something like Didier's mother, poor but almost rigid in her determination that her bright son would be successful.
There's another character in Dernier Appel with a parallel in real life, a woman of French extraction called Tante Alice, who opens educational doors for young Didier. Bourjolly has dedicated his novel "À la memoire de 'Tante' Aline Arbuthnot, une grande dame comme on n'en fait plus."
Bourjolly says now that like a character from a V.S. Naipaul character he quotes in his novel, he applied for every scholarship going, no matter what subject, from medicine in Belgium to agronomy in Israel. He applied to Ivy League schools in the U.S., but spoke little English at the time.
He spent five years studying in France, but couldn't get a teaching job because he wasn't a French citizen. After a year teaching in a private school, he came to Canada, and did a PhD at the University of Waterloo, where he mastered English. In 1977 he came to Concordia.
"Quebec was the best thing that could have happened to me. I enjoy my life — it's very creative, and everything has fallen into place. I don't want to retire."