Fine Arts alumni invited to the MMFA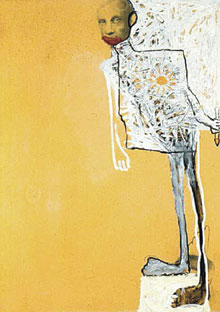 The Fine Arts Alumni Association will hold events at the Montreal Museum of Fine Arts to honour two major players in Montreal's art community, Marc Séguin and Chantal Pontbriand.
On Wednesday, May 12, at 6 p.m., there will be a celebration of the work of Marc Séguin, a Concordia alumnus. His solo exhibition, The Demons, is on view at the MMFA until May 23. The honorary patron is Stéphane Aquin, curator of contemporary art at the museum.
On Wednesday, May 19, at 6 p.m., the guest of honour will be Chantal Pontbriand, editor of Parachute magazine, who will speak about significant trends in contemporary art and dance. The honorary patrons will be Michèle Theriault, director of the Leonard & Bina Ellen Art Gallery, and artist Geneviève Cadieux, an associate professor of Studio Arts.
Both events will be held in the MMFA's Café des Beaux-Arts (Le Collectionneur). The Museum is at 1384 Sherbrooke St., but access is via the lobby of the Jean-Noêl Desmarais Pavilion, 1380 Sherbrooke St. W.
Tickets are $5 per event for alumni, $10 for non-alumni. Concordia Fine Arts alumni who attend will be eligible for a draw for artistic production grants of $100 each. Also, on May 19, there will be a draw for a free one-year subscription to Parachute.