Drummond Building to get a facelift, atrium
click to enlarge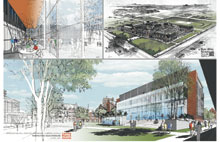 The Loyola Campus has just been transformed by the new Richard Renaud Science Complex, which absorbed the 1960s-vintage Bryan Building. Over the next year, the Drummond Building will undergo a renovation to match.
Vice-Dean Bob Roy, who oversees planning for the Faculty Arts and Science, says internal demolition work begins in mid-May, and main construction will start right after the annual construction holiday in mid-July, pending approval by the Board of Governors in May. The goal is to be finished the summer of 2005.
"It's a 12-month project," he said. "The schedule will be tight, but we hope to get it done on time and on budget."
The Drummond Building, for those who don't know it, is shaped like a compressed barbell, with a central building and two "pods," or circular extensions, at either end.
The work involves demolishing the northern pod, the Senate Chamber, and gutting the interior of the entire building. The façade of the building will be removed, and replaced with brick complementing the new Science Complex. The exterior will include some slit windows in the Drummond Auditorium pod for extra light and solar louvers like the Science Complex. A tunnel will connect the two buildings.
One of the most striking elements of the renovation will be a three-storey atrium facing north toward the Science Complex. "It will completely change the look of the quadrangle," Roy said.
The upstairs of the southern pod, at the corner of Sherbrooke St. and West Broadway Ave., will comprise a high-tech facility for the inter-university research group Hexagram that will be used by experts in communications and music. The pod will also include a 100-seat auditorium and four classrooms on the downstairs level.
The central part of the building will include offices, renovated classrooms, computer labs, studios and editing suites, and will be used by the Department of Communication Studies and Journalism, the bookstore and computer store, copy centre and mailrRoom.
In terms of area, this building will be about 9,000 square metres (gross), roughly one-quarter of the area of the 33,000-square-metre Science Complex.
The cost of the project is estimated to be approximately $20 million, of which $13 million will be actual building construction cost.
The Drummond renovation is eagerly anticipated by the students, faculty and staff who will use it, but as Roy wryly pointed out, all its space is already accounted for.