Passage to India: agreements signed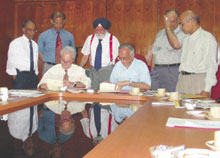 At right, Rector Frederick Lowy signs a memorandum of understanding with the Indian Institute of Technology, Madras.
Lowy led a Concordia delegation to India, including Professors Rama Bhat and Thiruvengadam Radhakrishnan, from Engineering and Computer Science, and Dale Doreen, from the John Molson School of Business.
Agreements were also signed with the Centre for Policy Research, an Indian think tank focused on policy issues, the Indian Institute of Technology, Delhi, and the Airports Authority of India.
This visit followed a trip sponsored by the Department of Foreign Affairs and International Trade to develop academic links between Canada and India. Concordia participants on that occasion included Dean of Engineering and Computer Science Nabil Esmail and Amely Jurgenliemk, from the Mel Hoppenheim School of Cinema.