Loyola Medal goes to Dominic D'Alessandro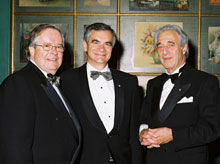 The Loyola Medal was presented in Toronto on May 3 at a dinner for 400 guests at the Four Seasons Hotel.
The recipient was business executive and alumnus Dominic D'Alessandro, who has earned widespread admiration in a decade as president and CEO of Manulife Financial Corp. He took the company through demutualization and conversion to public company status in September 1999, and recently merged it with the U.S. giant John Hancock Financial Services.
As an old classmate and fellow Loyola Medal recipient Richard Renaud said at the dinner, "The company earns six times more today than it did the day he took over. Manulife is a leading global insurance franchise, valued at $34.7 billion and set for more growth in the coming years."
D'Alessandro was named Canada's outstanding CEO for 2002, and the following year was named Officer of the Order of Canada. He received an honorary doctorate from Concordia in 1999.
He earned his first degree from Loyola College in 1967, and went on to qualify as a chartered accountant, earning the bronze medal from the Institute of Chartered Accountants. He has worked for Coopers & Lybrand, Genstar, the Royal Bank of Canada, where he was a vice-president, and the Laurentian Bank of Canada, where he was president and CEO.
From 1989 to 1996 he organized successful annual giving campaigns for Concordia, and he has served on the university's Board of Governors.
The Loyola Medal is given every two years for outstanding achievement and contributions to society. Past recipients include the late Governor-General Georges P. Vanier, Paul-Émile Cardinal Léger, former mayor Jean Drapeau, and musicians Maureen Forrester and Oscar Peterson.
The proceeds from the gala dinner on Monday night will establish an endowment in Mr. D'Alessandro's name that will support master's and doctoral students at Concordia.
We offer Mr. D'Alessandro our hearty congratulations.