Environmental economists meet here in July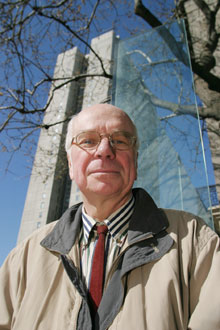 This summer, Montreal will host the one of the largest academic conferences of ecologically-minded individuals ever assembled. The event is the 8th Biennial Scientific Conference of the International Society for Ecological Economics (ISEE) from July 11-14.
Formed in 1989, the ISEE is a non-profit organization whose goal is to advance understanding of the relationships among ecological, social, and economic systems for the mutual wellbeing of nature and people.
Organizing the conference are two economics professors, Frank Müller of Concordia, and his colleague, Jean-Pierre Revéret from the Université du Quebec à Montréal. In a recent interview, Dr. Müller noted with pride that while regional chapters — namely the Canadian Society for Ecological Economics (CANSEE) — have met in Montreal before, this will be the organization's first international gathering in Canada.
Müller, who has been teaching at Concordia since 1974, was instrumental in bringing the event to Montreal. A founding member and former president of CANSEE, he was a participant in 2002 at the previous international conference in Tunisia. "It must have been the Tunisian red wine, because I volunteered to organize the [next] conference," he joked.
Müller and his colleague have been in planning mode ever since, and it's no wonder, given that approximately one-third of the organization's 3,000 members worldwide are expected to take part in this event. Participants will come from over 40 countries, including Austria, Brazil, China, France, Germany, India, Nigeria, Sri Lanka and the United States.
The conference title is Challenging Boundaries: Economics, Ecology and Governance. Discussion topics are numerous and include among others biodiversity, climate change policies, ecosystem health and globalization.
Conference participants will enjoy workshops and symposia, as well as plenary sessions featuring speakers from various disciplinary backgrounds. India's Vandana Shiva is one of the many scheduled speakers, and Müller called her participation a "big coup."
The conference focus is deliberately broad and encompassing, and although many issues are up for discussion, there will be no clear-cut solutions for how to achieve a sustainable socio-economic society. "Obviously, we will not come up with a blueprint for ultimate change [in July], but hopefully, we can advance the concept," Müller said.
The purpose of the conference, and the work of the ISEE in general, is not radical change, but rather to "encourage awareness about ecological economics and to contribute to changes in decision-making and in academic institutions. In addition, through publications such as the ISEE journal, Ecological Economics, we hope to change minds inside and outside of academia."
Although the fight seems like an uphill battle, Müller is a proponent of modifying the current socio-economic system.
"Change is necessary because we cannot sustain our current levels of consumption. We must begin to think outside of conventional thought" to find solutions.
For Müller, the actual term "ecological economics" is too limited. "I would prefer 'science of survival,'" he said. "We have to find a way to live within our ecological framework" if we want to survive.
The 8th Biennial Scientific Conference of the International Society for Ecological Economics (ISEE) will be held July 11-14 at the Palais des Congrès. The general public is welcome to attend. For more information, visit www.iseemontreal2004.com.