Class project retools marketing of Co-operative Institute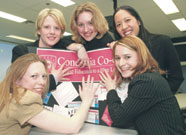 As Monica Golarz and her classmates in the John Molson School of Business recently discovered, real education for the real world is more than just a motto.
That real-world education took the form of a semester-long project in Harold Simpkins' Integrated Marketing Communications course to develop a complete marketing campaign for a bona fide client: Concordia's Institute for Co-operative Education (ICE).
Golarz, who will graduate next month with a degree in marketing, called the project an excellent opportunity. "You accumulate so much theory during your university career; this was a great way to actually apply it in a real situation."
Established in 1980, ICE allows students to combine alternating semesters of academic study with outside work experience. In addition to their degree, graduates of the program gain hands-on, practical experience in their chosen field, making them attractive candidates for employers. Over 800 students are currently involved in ICE, which offers 26 programs of study in the university's four Faculties.
A recent desire to increase enrolment and expand its brand recognition in the community led ICE to offer the marketing challenge to Simpkins' class. Students were divided into six competing groups and given a hypothetical budget of $100,000 to prepare their marketing campaign.
After 13 weeks of hard work, Golarz and four teammates — Nadine Lafond, Nancy Zajdler, Caroline Bumueller and Han Hoang — were declared the winning team. Their appropriately titled Integrated Solutions Group proposed several suggestions, including changing ICE's moniker to Concordia's Co-op to better embrace Concordia's brand name and reputation while maintaining the Co-op's separate identity.
As part of their campaign, the Integrated Solutions Group also developed newspaper and radio advertising, a redesigned internet home page, posters and direct marketing pieces, all sending out a consistent, strategic message. The group targeted employers, alumni and parents of students, but focused most of its attention on the students themselves.
Unlike working with case studies, which limit a project's scope to specific parameters, Golarz and her classmates received constant feedback from actual client interaction, and gained valuable interpersonal and public speaking skills throughout the semester.
Christine Webb, ICE's director, was impressed by how seriously students took the marketing challenge. "What ICE is and where it belongs is often not clear. As the students suggested, [ICE] should and will take advantage of [Concordia's] name and recognition. Implementing the name change will strengthen our market position, and it will give me the greatest pleasure putting the students' ideas to work," she said.
While she may not implement all of the students' suggestions, having groups of talented students prepare such high-quality marketing campaigns "will save us hundreds of hours of work," Webb said. Golarz credits strong team chemistry for the group's success. "Right from the start, we fed off each other. Everything was a collaborative effort." The five teammates worked so effectively that the group is toying with the idea of starting a part-time consulting company after graduation.
"Because we're all graduating, we're proud to be able to leave a lasting mark on the university," Golarz said.