Adrienne Clarkson awarded honorary doctorate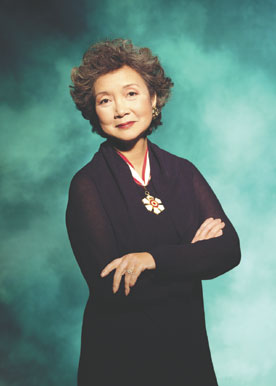 Spring convocation at Place des Arts will be even more splendid than usual on June 10, when Governor-General Adrienne Clarkson is given an honorary doctorate.
The award will be given to Canada's head of state at the morning convocation ceremony of the Faculty of Arts and Science, and Clarkson is expected to address the gathering.
Born in 1939 in Hong Kong, she came to Canada as a three-year-old with her family, and grew up in Ottawa. She attended the University of Toronto's Trinity College, winning the Governor-General's Gold Medal in English, and went on to do postgraduate work at the Sorbonne, in Paris.
Her curiosity about the world, coupled with her poise, led to a career on CBC television, where she became well known as the co-host of Take Thirty, a sophisticated and engaging daytime talk show. She enjoyed a long career as a writer and host, particularly of artistic and cultural subjects, and including a stint on the fifth estate.
From 1982 to 1987, she served as the first Agent-General for Ontario in Paris, promoting that province's business and cultural interests in France, Italy and Spain. She was also president and publisher of McClelland & Stewart from 1987 to 1988.
During these years, she contributed articles to newspapers and magazines in Canada, and wrote three books. She also continued her television career, winning dozens of awards in Canada and the U.S.
She became Governor-General in 1999, and immediately put her own stamp on the office, traveling widely across Canada and abroad with a combination of flair, enthusiasm for her job and concern for others.
The award will be presented at the morning convocation ceremony of Arts and Science, beginning at 9:30 a.m., in the Salle Wilfrid Pelletier of Place des Arts.