Long-serving faculty, staff fêted by university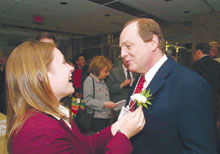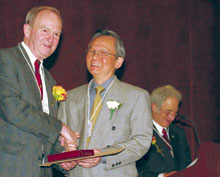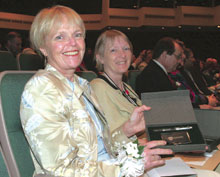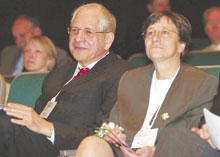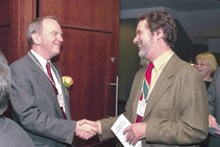 The university acknowledged faithful service by 191 employees in five-year increments at a ceremony at the Centre Mont-Royal on May 12.
In the photos, starting at the top right: Professor William Knitter (30 years) has his boutonnière pinned on by a student from the Garnet Key; Professor Tien D. Bui (30 years), being congratulated by Chancellor Eric Molson; Anna-Beth Doyle and librarian C. Jane Fraser (both 30 years); Professor Frank Chalk (40 years) is seen with Lina Lipscombe, manager of the bookstores and copy centre (35 years); in the bottom photo, Eric Molson congratulates professor Terry Fancott. Frank Chalk gave a speech, which may be read here.
- Photos by Andrew Dobrowolskyj
40 years
Frank R. Chalk • David Franklin • James C. Hayes • C. Lynne Prendergast • Fred E. Szabo
35 years
Jaleel Ahmad • Horst Hutter • Frederick H. Krantz • Lina Lipscombe • Thomas Oulton McElroy • Elaine B. S. Newman • Sandra R. Paikowsky • John S. Phelan • Venkat Ramachandran • Anthony Synnott • Robert Tittler • Jo Ann Welsh
30 years
Barbara Ann Barclay • Michael Bross • Tien D. Bui • Steve Bush • Ralph Carter • Dennis Dicks • Anna-Beth Doyle • C. Jane Fraser • Efie Gavaki • Paul Richard • C. Gregory • Maureen Habib • Arpi O. Hamalian •Kamel Khalifa • William Carl Knitter • Christian Knudsen • Steven S. Kredl • Dorothy Markiewicz • Yvonne P. Marshall • John McKay • Robert A. Mearns • Sabah Mikhail • Frank G. Mueller • Michael Oppenheim • Gilles Pilon • Miriam Posner • Robert Pouliot • Thiruvengadam Radhakrishnan • Charlotte Rosenstein • William Sellers • Christopher Trueman • Catherine Vallejo • Irene Whittome
25 years
Aleksander Ackerman • M. Omair Ahmad • Susan Altimas • Steven H. Appelbaum • Kevin Austin • Maria-Helena Bairos • Robert M. Bernard • V. Marie Berryman • Rama Bhat • Serge Bonin • Michael Brady • Erika Linda Brazinskis • Jenny Calder • Yogendra Chaubey • Dave Clark • Daniel Cuillierrier • Ghislaine Daoust • Roch Deslauriers • Eusebius Doedel • David Elliott • Mario Falsetto • Pamela J. Fox • Janet Fradette • Ann Golubowski • Vladimir Hakien • Susan Hawke • Gabriella Hochmann • Henry Hong • Paul Hrasko • Marlis Hubbard • Joseph Hulet • Dainius Juras • Gary Katch • Roger Kenner • Valerie Kinslow • Robert Kirk • Galina Lolesova • Benoit Lachance • Michel Laroche • Kai Lee • Ellen Lord • George Lowenfield • Catherine Mackenzie • Charlotte MacLaurin • Mary Melnyk • Leopold Plotek • Iqbal Qadri • Rose Carole Quinn • Peter Randell • Ron Rehel • Pamela Richardson-Askew • Ira Robinson • Barbara Rousse • Gary Schwartz • Theodore Stathopoulos • George Stecyk • Nancy Stewart • Jean St-Onge • Antonin J. Sum • R. B. Swedburg • Sheila Taylor • Angela Wilson-Wright • John Winiarz • Susan Yegendorf • Alex P. Zinegyi
20 years
Carol Ann Acton • Martin Allor • Dorina Banu • Adèle E. Beaudry • Joseph Beltempo • Robert Black • Kimberley Breux • B. Kemal Buyukkurt • Meral Demirba_ Büyükkurt • Perry Calce • Howard J. Campbell • Kathleen Carey • Michael Carney • Josie Christensen • Josy Cirella • Chantal Collard • Michael Conway • Peter Côté • Laura Cowan • Angela De Benedictis • S. Nicki Debiparshad • Claire Delisle • Michèle Delisle • Georges Denes • John S. Donahue • James Dubois • Gail Fayerman • Gordon Fisher • David Ford • Cynthia Foster • William Lambert Gardiner • Cynthia George • Paul E. Gibbons • Paul Gill • Guy Gosselin • Peter Grogono • Pat Fitzpatrick Hardt • Nancy Helms • Alan Hochstein • M. Karimpour-Moghaddam • Michael Keeffe • Holly King • Guy Lachapelle • Lise H. Larin • Céline Laurin-Anctil • Hon F. Li • Joanne Locke • Varda Mann-Feder • David Moscovitz • Luis Nasim • Joanne Plante • Claude Potvin • Robbie Bernie Raso • Karl Raudsepp • Marc D. Rotstein • Olivia Rovinescu • Sandra Rozansky • Barbara Ruttenberg • Filippo Salvatore • Louise Samson • Ahmet Satir • Susan Scott • Ahmad Shafaat • Barbara T. Shapiro • Mahesh C. Sharma • Michael M. Sotiron • Jody Staveley • Lorne N. Switzer • Anna Szpilberg • Dereje Taye • Stella Teti • Jerry Tomberlin • Eleanora Turovsky • Janina J. Warzecha • Donna Whittaker • Anna Zaccagnini • Radu Grigore Zmeureanu