Time out from rehearsal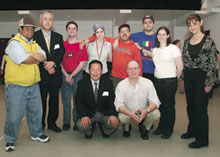 Concordia's Centre for the Arts in Human Development played host on May 14 to visitors from Japan on a tour of Canadian rehabilitation facilities. The actors were in rehearsal for their latest original musical, Romeo and Juliet on Dante Street, to be staged at the D.B. Clarke Theatre on June 19 and 20.
Shakespeare's classic, Romeo and Juliet, has been situated in Montreal's Little Italy, and features the developmentally challenged participants as lead actors.
Students from Mile End and Venture High School are apprentices for the production and will also display their creativity through acting, singing and stage management.
Production costs are covered by the Birks Family Foundation, and a major sponsor for this special event is the Quebec Foundation for the Intellectually Handicapped. For tickets, call (514) 848-2424, ext. 8619.